Have yourself a soup-er CNY with islandwide steamboat delivery
Chinese New Year is just around the corner, and that means only one thing–steamboat. Everyone loves a hearty reunion dinner affair, but so much of the ingredients preparation goes unnoticed. Why slice and peel and dice tirelessly when you can enjoy steamboat delivery in Singapore from your favourite restaurants, with the freshest ingredients and delicious soup bases?
Here, we've curated a list of 7 steamboat delivery options in Singapore for your CNY dinner this year.
1. Beauty In The Pot
A hotpot concept that needs no introduction, Beauty in The Pot has been providing quality ingredients and soup bases for food lovers all over Singapore. Indulge in their Longevity Set Menu ($245.14) that feeds six, which consists of a twin pot of Beauty Collagen Broth, Spicy Nourishing Broth. Plus, indulge in a myriad of ingredients like Hokkaido Fresh Scallop, Fresh White Sea Prawn, Spanish Pork Collar, and more.
Enjoy islandwide steamboat delivery from Beauty In The Pot when you order in from Oddle Eats this CNY.
2. CHU Collagen: Premium Japanese-inspired Collagen Soup Bundles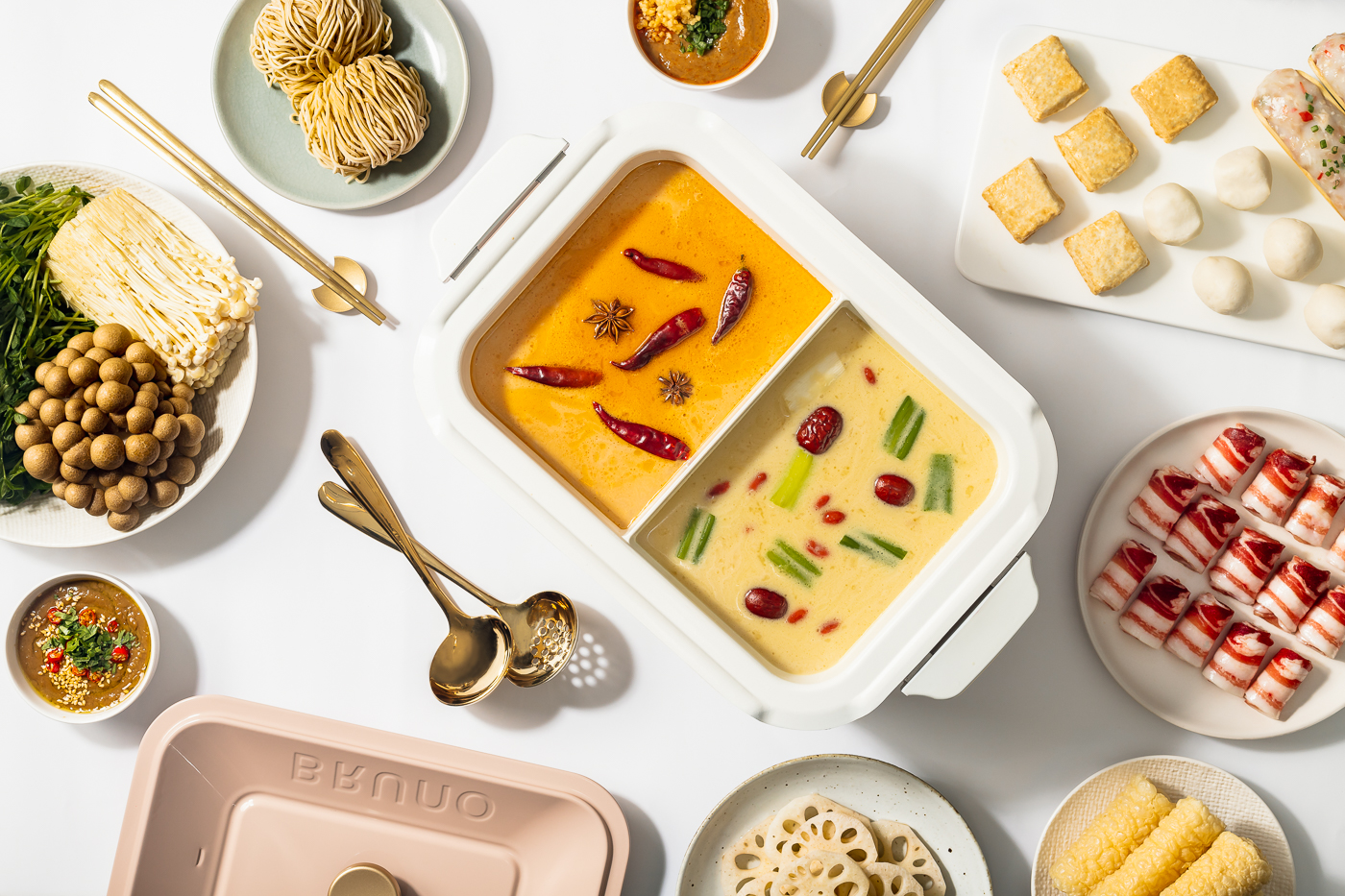 CHU Collagen, named after Japanese slang for the sound of a kiss, aims to illicit that same response from their customers. Now offering steamboat delivery in Singapore, we recommend ordering their signature 4-pack bundle CHU Chicken Collagen Soup ($52). Double-boiled for eight hours using only the finest ingredients, this creamy, flavourful broth will make for the perfect CNY steamboat delivery dinner. To spice things up, try their 4-pack bundle of CHU Mala Collagen Soup ($50), or order the 4-pack bundles of CHU Prawn Mee Soup ($40) and CHU Laksa Soup ($40) for a taste of something different!
Steamboat delivery has never been this hassle-free with Oddle Eats!
3. Paradise Hotpot
From the same chain that brought you Beauty In The Pot comes Paradise Hotpot, a hip Hong Kong-style steamboat concept with a huge selection of soup bases. With their Chinese New Year ($203.94) set, choose from soup bases like Spicy Szechuan Soup Base, Century Egg with Coriander Soup Base, Tomato with Sweet Corn Soup Base, and more! This set is best shared between six people and comes with premium ingredients that delight.
Order in Paradise Hotpot's steamboat delivery for an auspicious reunion dinner with your loved ones.
4. Shinsen
Besides steamboat delivery, did you know that you can also order in fresh ingredients for a delicious hotpot at home?
Shinsen delivers quality produce straight to your doorstep, with products ranging from gourmet meats to fresh fish from Japan. For your steamboat delivery dinner, order in the Shinsen Shabu for 4 (Pork) ($79), which comes with a soup of your choice, 300g of Shirobuta Pork Belly, 150g of US Pork Collar, and more. Add on the US Beef Short Plate ($9.95) and the 5 Pack Japanese Chicken 18x Collagen Soup ($39.90) to complete your meal.
Get the freshest steamboat ingredients delivered right to your doorstep with Oddle Eats this Chinese New Year!
5. TankFully Fresh
Local seafood supply retailer TankFully Fresh is a one-stop solution, delivering the freshest seafood to your doorstep. For a no-brainer option this CNY season, get their Steamboat Family Bundle ($135.19) that feeds 4-6 people, which includes 1kg of South America or Tiger Prawns, 1kg of King Fish Fillet, 500g of Red Grouper Fillet, and many more.
You'll be feasting to your heart's content with TankFully Fresh's seafood when you order in from Oddle Eats.
6. Wholefish & Seafood
Offering a wide range of fish such as threadfin, cod, grouper, pomfret and more, Wholefish & Seafood is the seafood retailer you can count on. Their Golden Treasures Set ($102.90) consists of two types of premium-grade abalone and 700g of Chinese Pomfret. The Sliced Fishes Pack ($109.90) includes 300g of sliced threadfin, 500g of sliced salmon and 600g of sliced cod. Spread the joy of CNY with the Abundance of Joy Set ($59.90). With the option of soup, two sliced fishes, shabu beef, shellfish and four sides, you'll definitely have a feast of abundance with Wholefish this CNY.
Order in the freshest catches this CNY and enjoy delivery for your steamboat reunion dinners!
7. 9s Seafood
Make a splash with 9s Seafood's fresh and frozen seafood supplies for your CNY steamboat delivery! Add an extra zing to your steamboat dinner with their tender Crab Meat (Jumbo) (from $28++), premium Chinese Pomfret (from $21.50), juicy King Prawn (from $65++), and Hamachi Loin (from $27++). Don't miss out on their all-new Ama Ebi Karaage or crowd-favourite Fish Ball with Roe. As 9s Seafood's items are harvested daily and retrieved directly from the fishery port, be assured that only the freshest seafood produce will be delivered to your doorstep.
Order here to receive 9% off your first order with 9s Seafood and enjoy free delivery for orders above $60!
—
Visit our CNY Guide here to discover more great eats!