Whether you're ordering food for yourself, your four-person stomach or a group gathering, Korean food will never go wrong. From heartwarming stews to flavourful finger food, it's easy to satisfy a spectrum of taste buds and occasions with Korean cuisine, now just a delivery away.
Here's a trusty list of 9 Korean Food Deliveries in Singapore to bookmark for all occasions, whether you're craving a traditional course meal complete with side dishes or finger-lickin' party food.
1. Ajumma's
With a name like Ajumma's (the Korean equivalent of the Singaporean aunty), one can already imagine the hearty grub that will be served. Known for its nutritious Dosirakmeals featuring tender grilled meats marinated in lip-smacking sauces and a spread of nutritious pickled vegetables, the restaurant delivers a home-cooked, prepared-with-love feel to its lunch boxes, making it a go-to choice for a well-rounded nutritious meal.
Ajumma's also caters to groups with its sharing bundle deals: their bundles are portioned to feed 4 pax or 10 pax and include a variety of dry and soupy dishes. Priced at $85, the 4 Pax Bundle includes 2 choices of marinated meats, a stew, 2 appetisers (choose crowd favourites like steamed egg and kimchi pancake), 4 complimentary side dishes per person, rice and drinks.
ORDER NOW| Facebook | Instagram
2. SBCD Korean Tofu House
Best known for its sizzling soft tofu stews, SBCD Korean is comfort food heaven. Nothing soothes the soul better than the Original Beef Soontofu (S$23), a pot of hot and spicy tofu stew with strips of tender beef served with a gooey egg. Tofu fans will be delighted to hear that the soft and silken tofu is imported from Paju, South Korea, and made fresh in-house daily, ensuring its top quality and texture.
Enjoy the hearty stew on its own, along with sides of fermented squid, kimchi and seaweed, or grab a combo deal comprising 1 stew and 1 meat platter and indulge in the best of both worlds. We recommend the Spicy BBQ Pork Combo (S$32) for a tangy, fiery punch of flavour.
ORDER NOW| Facebook | Instagram
3. Wang Dae Bak
Be spoilt for choice by the wide variety of traditional Korean food you can get at Wang Dae Bak. Look forward to a selection of meats, stews and familiar Korean delights like seafood pancake and japchae. You'll never think of soup as plain and boring again, especially not after seeing the fiery red of the Spicy Seafood Tofu Soup (S$16).
As the Korean barbeque hotspot in Chinatown, Wang Dae Bak Pocha offers their KBBQ Meat Kits for avid Korean barbeque fans. With all the ingredients prepped just for you, you can now enjoy your own KBBQ-from-home experience. Starting from S$50, the handy kit comes with all the staples: 500g of meat (take your pick), a pack of lettuce and sauce dips, side dishes and steamed rice for two. Get ready to grill up a storm in your home kitchen.
4. SEORAE
Meat lovers rejoice: SEORAE, famous for their charcoal-grilled BBQ and quality meat cuts, is bringing their ready-cooked grilled meat sets to you for your stay-home comfort food parties. If you're someone who loves KBBQ but would rather skip the grill work, this is for you!
Their bundle sets are a jaw-dropping steal: the Sharing Set (S$78) feeds 3-4 and comes with a whopping spread of grilled pork belly, skirt meat, chicken, sharing staples like kimchi pancake, soft tofu stew, steamed fluffy rice to go around and of course, banchan (side dishes).
ORDER NOW |Facebook | Instagram
5. Bonchon Singapore
Ever watched a K-drama and started salivating as they guzzled fried chicken in front of you? We've all been there. Thankfully, with fried chicken delivery from the famous South Korean franchise, Bonchon Singapore, fried-chicken-FOMO will be a thing of the past. Deep fried twice for texture and glazed with sauce that clings to the meat (and not your fingers), Bonchon's signature chicken is hyped to be the crispiest, crunchiest fried chicken in town.
A set of original recipe Six-piece Wings (Small) starts at S$8.90, but if you're someone who loves your chicken meaty and thicc, go for the Whole Chicken Parts (Small) (S$16.90) for two pax.
ORDER NOW | Facebook| Instagram
6. Jinjja Chicken
Halal spicy chicken and jjajangmyeon– nothing screams comfort food as much as Jinjja Chicken's signature dishes. Set on bringing the best of Korea's street food around the world, this halal-certified franchise prides itself on using the freshest ingredients, minimising processed ingredients and additives.
Tear into their popular Big Bang Combo Set A (S$49.90) for 4-5 pax (pictured above) that features the best of Korean finger food: 16 signature JINJJA wings, 4 JINJJA drumsticks, 1 Kimbap, 6 seafood mandus (Korean dumplings), 2 sets of fries and 4 sodas.
ORDER NOW| Facebook| Instagram
7. Patbingsoo Korean Dining House
Marrying the best of sweet and savoury Korean comfort food, Patbingsoo Korean Dining House serves up an impressive selection of street food that transports you back to the busy streets of Myeongdong Night Market.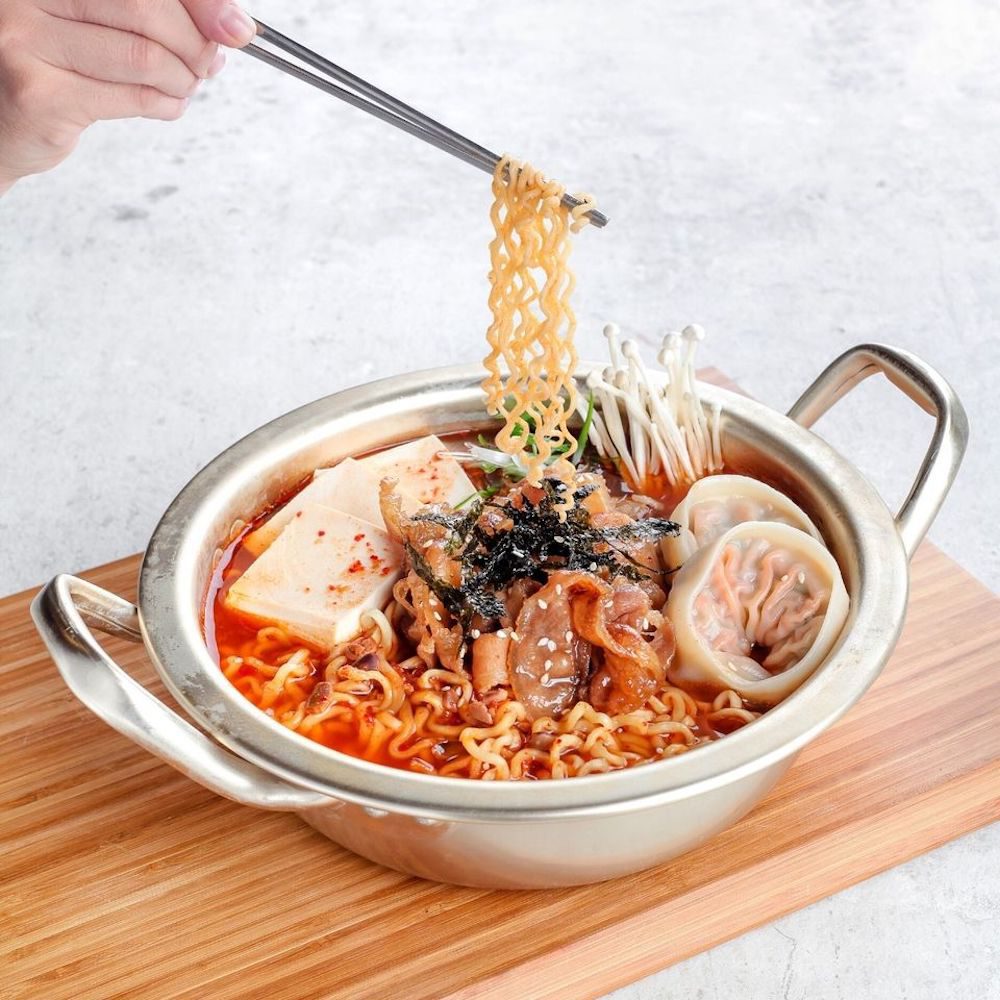 Nothing screams Korean comfort food like a steaming pot of army stew. Go for the classic Budae Jjigae (S$13.90), or take things up a notch with the Kimchi Mandu Jjigae (S$13.90), which comes with delicious deep-fried Kimchi pork dumplings.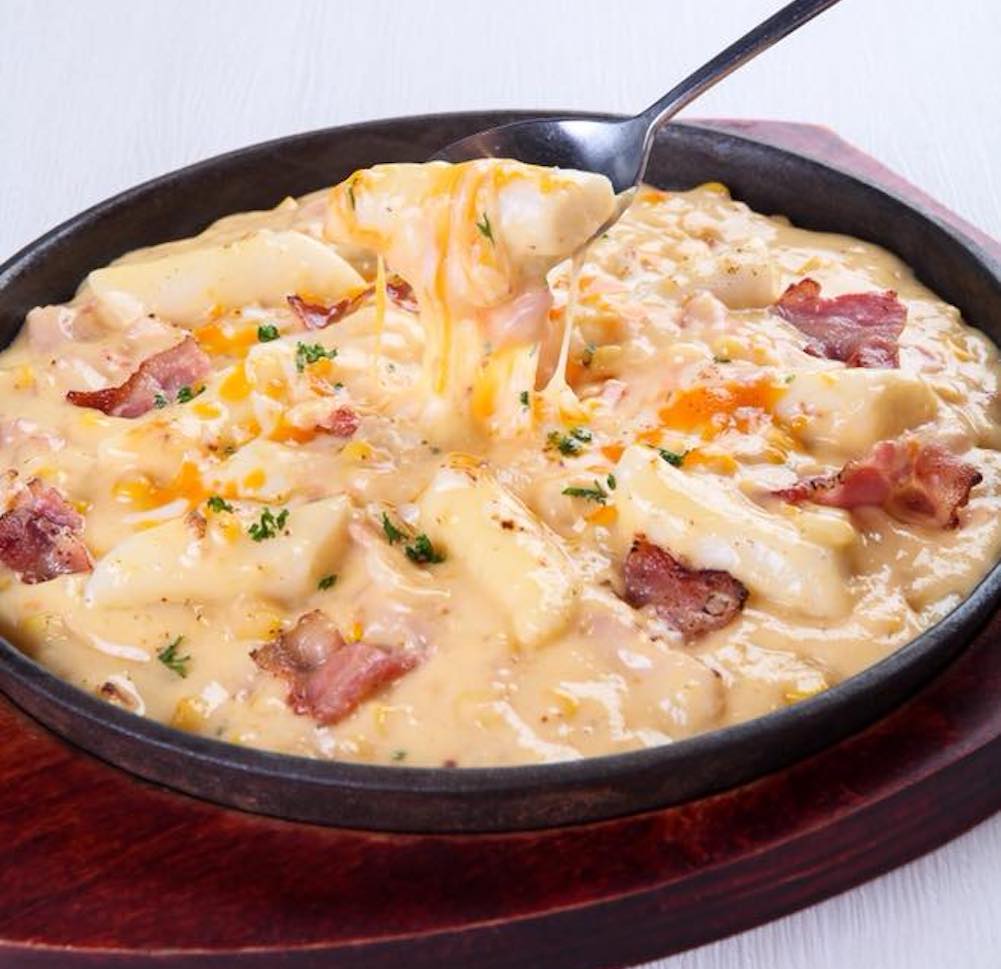 If you're looking for an indulgent treat to accompany your next K-drama binge, you have to order the Tteok Carbonara (S$12.90), a hotplate of korean rice cakes, bacon and corn kernels, sauteed and served in a decadent cheese and cream sauce.
8. Han Pan Korean Restaurant
With premium ingredients imported all the way from Korea and Europe, look forward to high-quality Korean comfort food at Han Pan Korean Restaurant.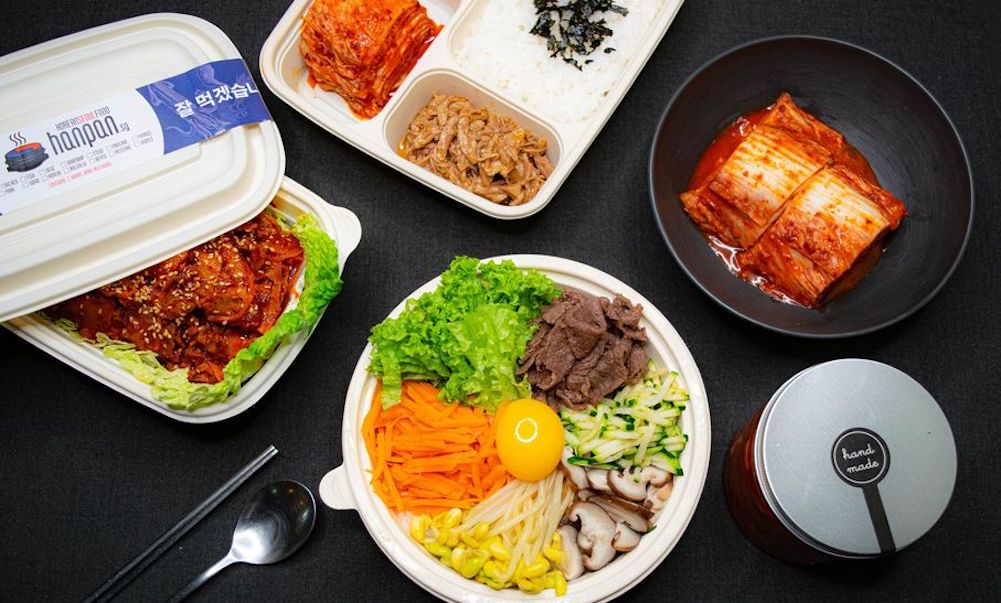 You'll be spoilt for choice with their wide array of Korean delicacies, from soups and stews to bulgogi meats and pancakes. We recommend their housemate Kimchi (S$12.90 for a 600g jar) and Bossam Pork (S$15.80), which is pork shoulder that is boiled in fragrant spices and thinly sliced.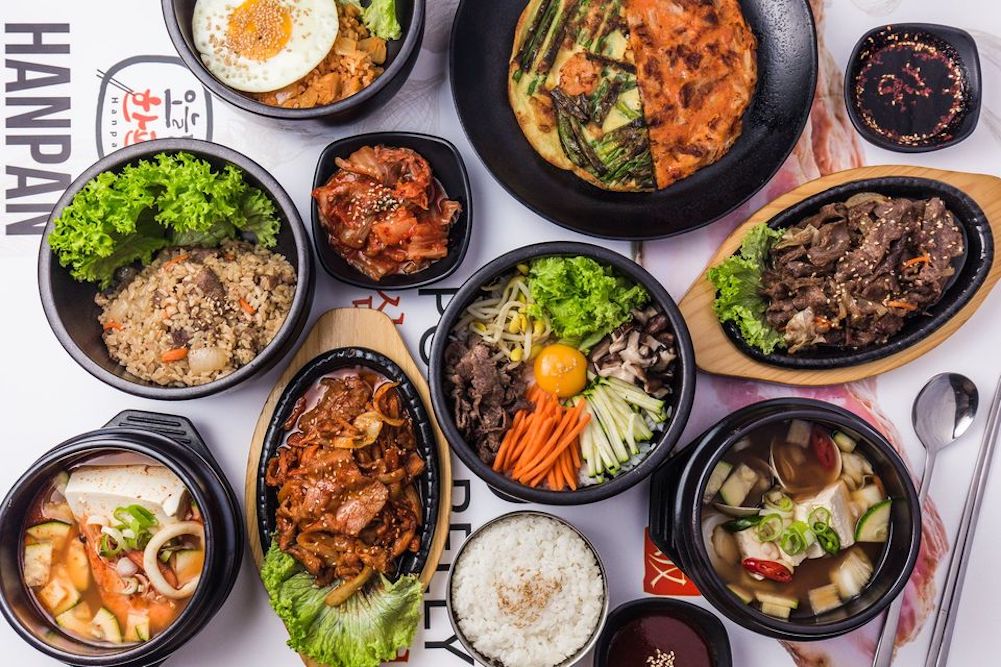 Han Pan also has all your party needs covered, with curated sets for up to 6 people. Dig in to their Signature Set (S$90) for 4-6 pax, which comes with a pancake, bulgogi meats, stew, rice and drinks. At less than $20 per person, we think this is a pretty good deal.
9. DAEBAK Korean Restaurant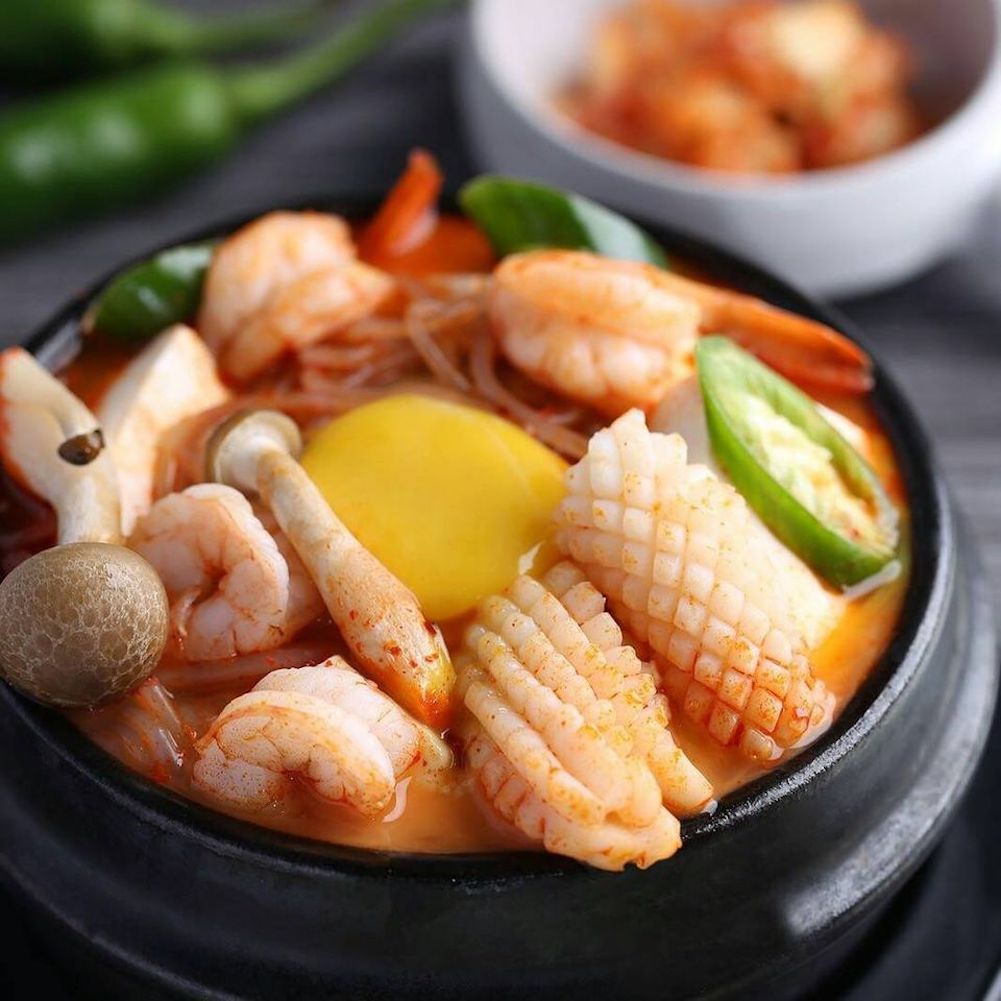 Comforting, fuss-free Korean soul food – what's not to love? Fans of DAEBAK Korean Restaurant would definitely strongly recommend their Tofu Soup (S$9.70). It might sound like a simple dish but it packs a punch with Daebak's very own unique broth.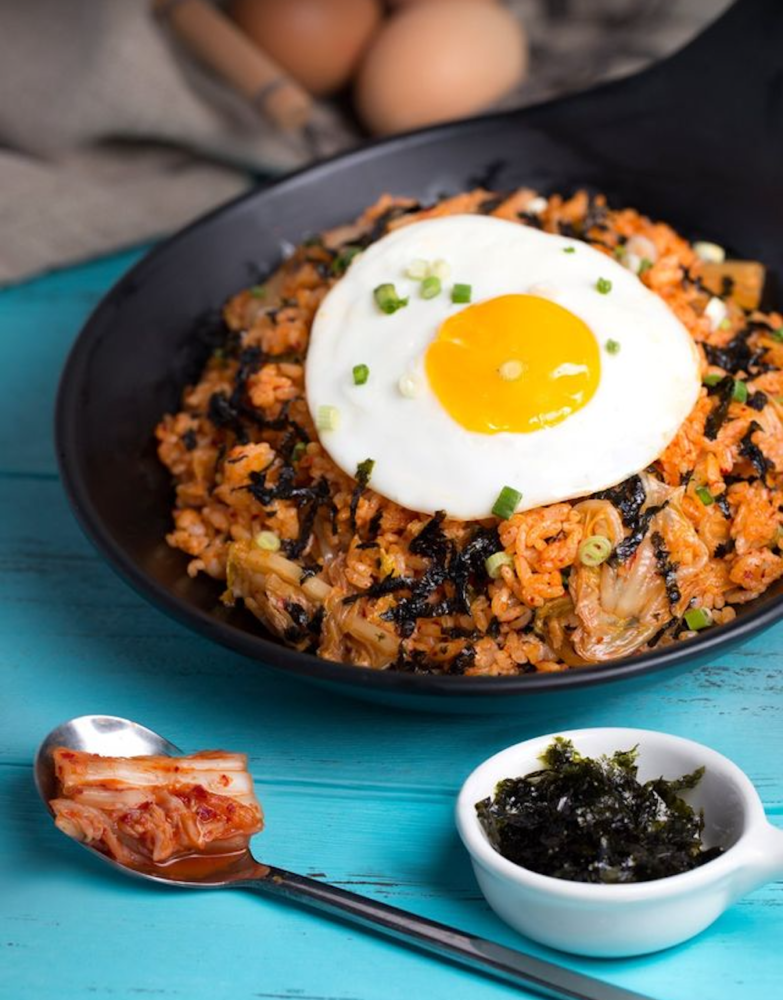 For those that prefer the classics, opt for their Kimchi Fried rice (S$11.70), which is stir-fried with their very own house-made kimchi, and completed with a perfect sunny side-up.
---
Never go through K-drama binges alone and hungry again. When the Korean food cravings hit, get anything from Korean fried chicken to soul-soothing tofu stews delivered to your doorstep with Oddle Eats!