Say 'Thai food' and immediately it conjures images of mountainous plates with brightly coloured Pineapple rice accompanied by vivid vermillion bowls of tom yum goong.
Sweet, spicy, salty and savoury, Thai food seems to be one of few cuisines that encompasses all these traits in a single dish. Each flavour distinguishable from each one and yet blending effortlessly together like a masterful symphony. Perhaps it's magic or the prowess of chef that allows Thai food to be at both comforting and intensely satisfying.
Whether you are in desperate need to cure your wanderlust (now, more so than ever) to the Land of Smiles or have run out of delivery options, let this list of 11 Thai delivery places be your guide for a great night in.
1. Krapow
Krapow does this best. Serving the classic dishes such as their Krapow- Minced Pork (S$9.60) that comes with a crispy, craggy egg and spicy minced pork—it's a match made in Thai wonderland.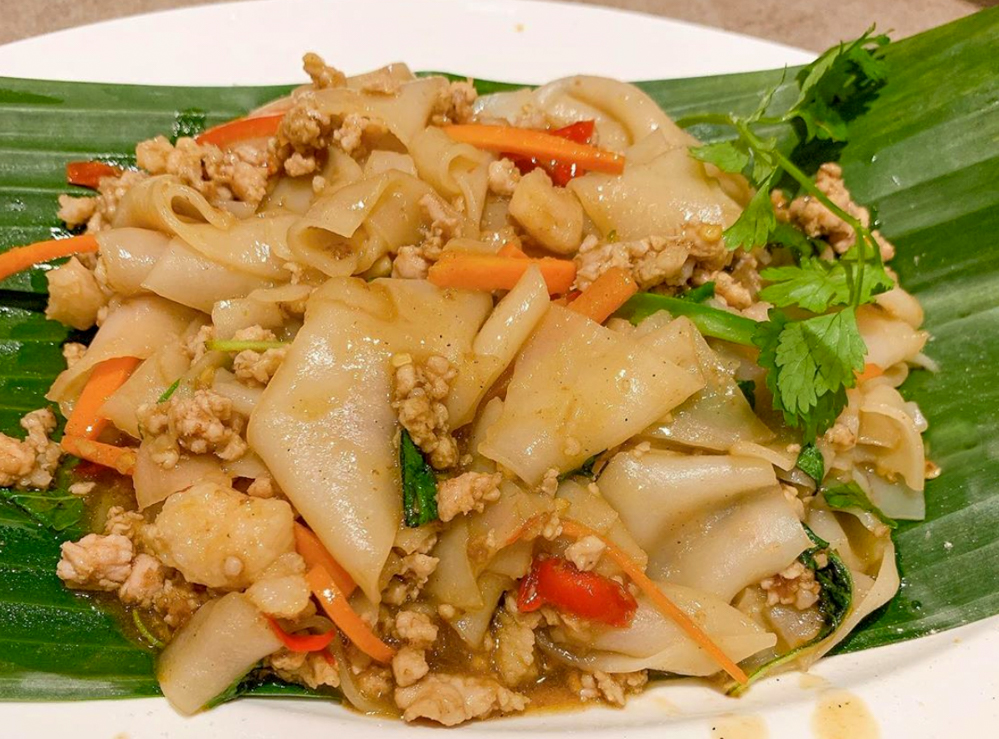 Or try one of Krapow's s Drunkard Noodles which as the story goes, someone stumbles home after a fun night drinking and whips up a meal with whatever that's left in the refrigerator. If you ask me, that's the best kind of meal, so go all out with the Drunkard Noodle – Tiger Prawn and Fresh Squid (S$18).
Beware, Krapow's dishes aren't for the faint-hearted and they go heavy on the spice. So, prepare to sweat bullets and perhaps order Thai Milk Tea (S$5) to quell those fires.
ORDER NOW | Facebook | Instagram
2. Un Yang Kor Dai
Un Yang Kor Dai is as authentic as they come with serving Thai favourites as well as Northeastern Thai cuisine or better know as Issan cuisine. Thai food is more than just Tom Yum Goong and Pineapple Fried Rice, though they are very good.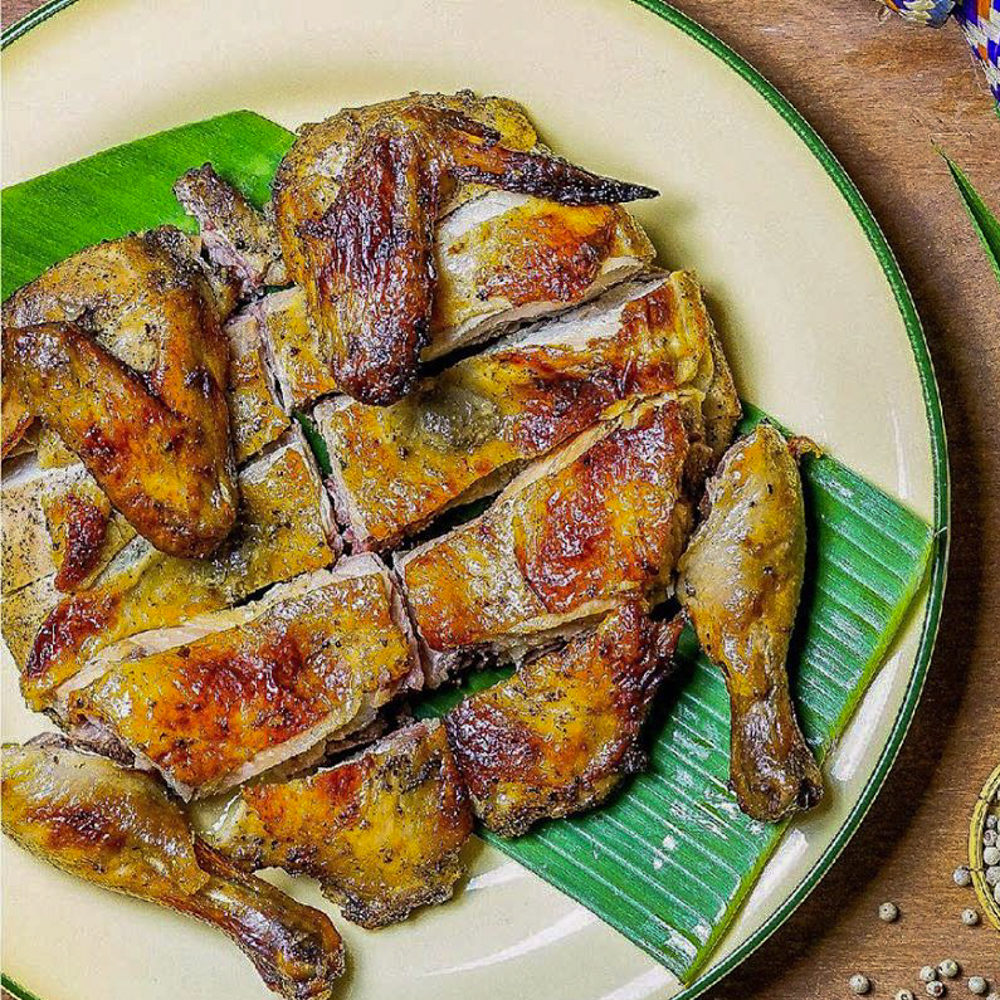 There is no question when ordering food from Un Yang Kor Dai, the PenLaos Signature Grilled Chicken ( from S$12) is one not to be missed.
This spring chicken is seasoned with aromatics such as peppercorn and coriander for up to three days before being grilled to perfection. What you get is a juicy, intensely flavourful chicken that will spoil you from all other grilled chicken.
ORDER NOW | Facebook | Instagram
3. Nangfa Thai Kitchen
If its take out night at home, then look no further than Nangfa Thai Kitchen. With a startling array of Thai dishes, you can be sure that your Thai night in is covered.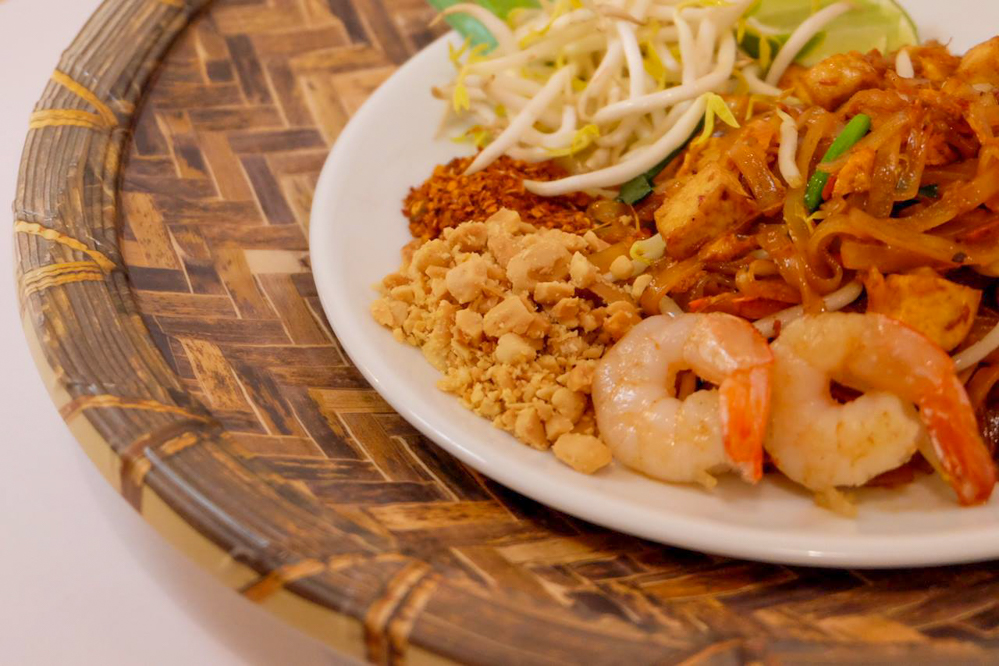 A classic Thai dish that has to be on your list has to be the perennial Phad Thai Noodle (S$6.50), full of that elusive wok hei and delicate dance between spicy, sweet and sour there's no other dish that's as satisfying.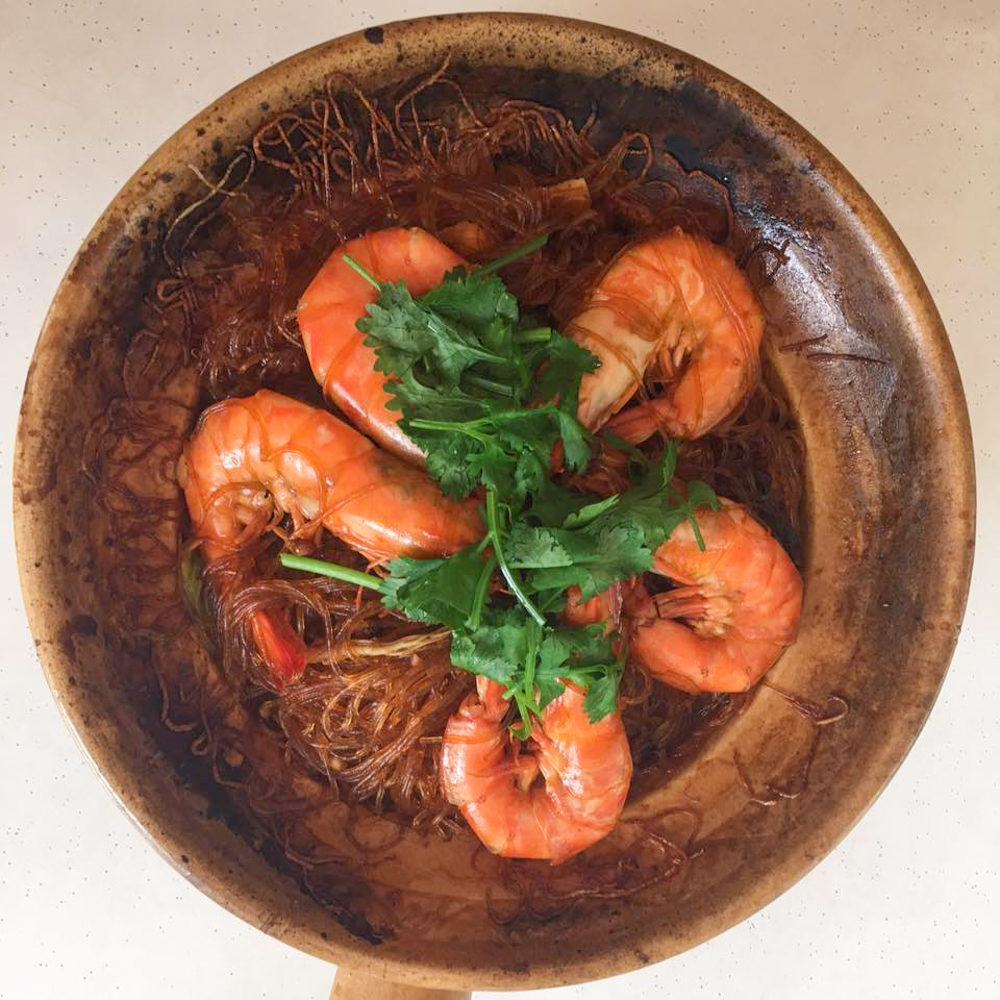 For those looking to venture out of your comfort zone, the Claypot Tanghoon with Prawns (S$ 17.50) is a good bet. Yes, it's a little more pricey than the ever-reliable Phad Thai but that extra change is worth it. What you get is savoury and bouncy tang hoon full of wok hei that might make you forget all about Phad Thai altogether.
4. Soi Thai Kitchen
One thing that Singaporeans cannot resist is the siren call of affordably priced delicious grub. At Soi Thai Kitchen, this is exactly what you can expect. This hipster joint serves delectable Thai cuisine that's prepared by a Thai chef, so you know you're getting the real deal.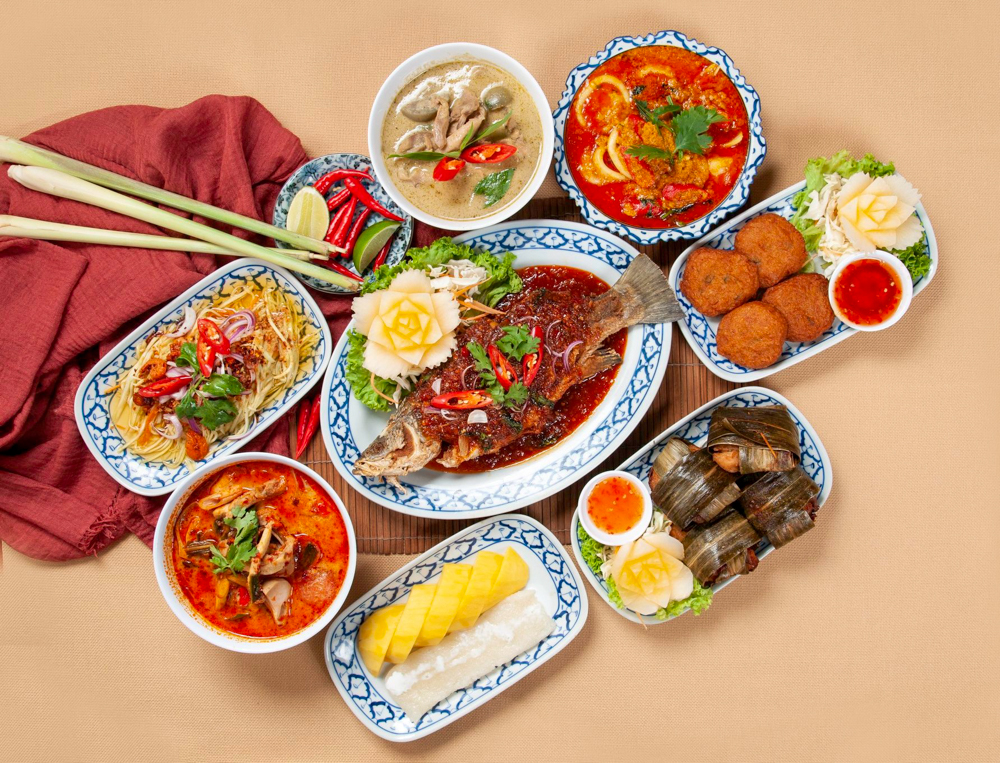 When you're at Soi Thai Kitchen it's a go big or go home situation and with prices like this, you have to go big.
Order up a feast that's fit for a king and fill your dining table with dishes such as Seabass with Thai Chilli Sauce (S$31), Grilled Pork Neck (S$16) and the quintessential Red Tom Yum Soup (S$9.50)—what more could you want?
5. Sawadee Thai Cuisine
Thai food is always good but Thai food in a convenient bento—now, we're talking.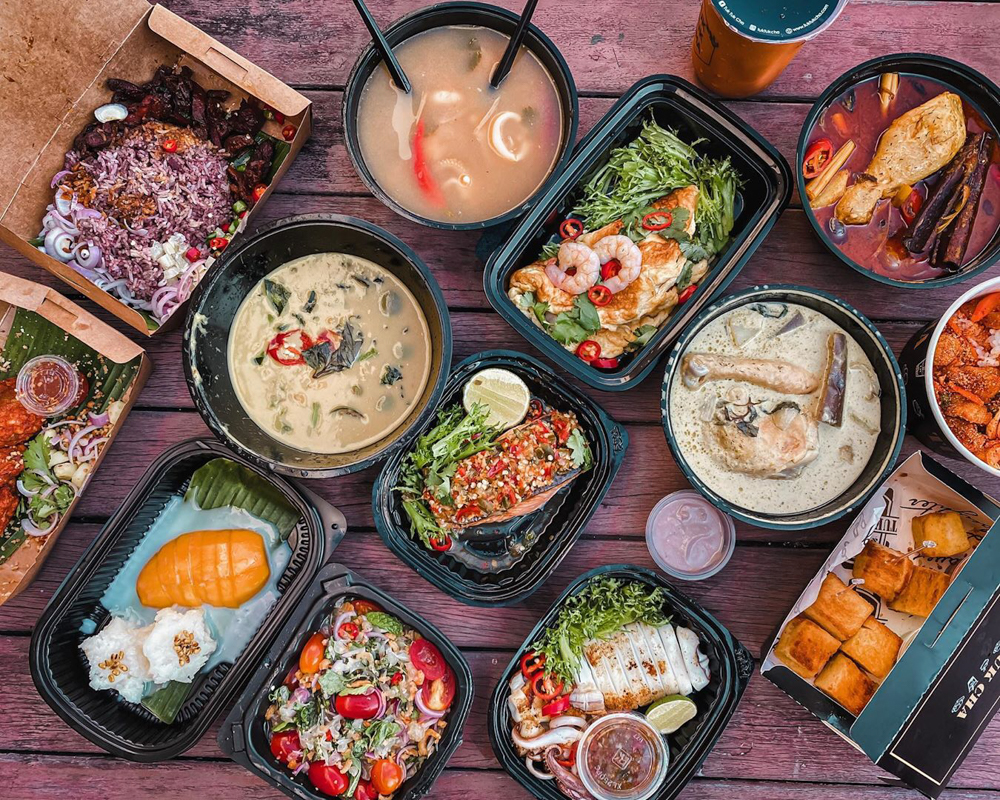 Sawadee Thai Cuisine boasts all the classic Thai dishes from their Green Mango Salad (S$14) to their Thai Coconut Chicken Soup with Rice Noodles (S$16) but what I'm really interested in are their Bento Sets.
It's all your favourite Thai food in a convenient package. Take their Bento Set A (S$12.50) that come with a punchy Wing Bean Shrimp Salad, Stir-Fried Chicken with Cashew Nut, Thai Springrolls and
Pineapple Rice. Truly, bang for your buck and satisfying lunch out of it.
ORDER NOW | Facebook | Instagram
6. Bangkok JAM
Yes, a trip to Bangkok is all but a distant dream but perhaps Bangkok JAM will bring the vivacious city a little closer with their delicious wares.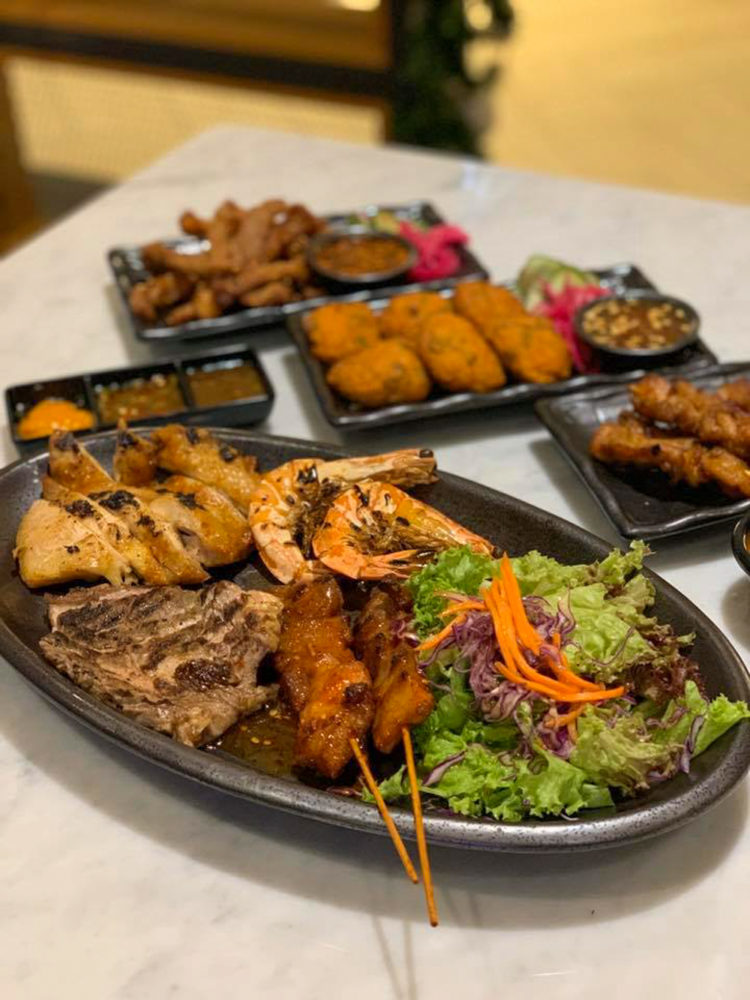 Bangkok is always the most fun with friends, so that's why you'll have to order Mixed Grill Platter (S$39.48) for you go-to travel buddies.
Charred and smoky, this platter will hearken the boisterous and lively streets of Bangkok where your only care in the world is where the next tasty pit stop is.
7. Saap Saap Thai
Saap Saap Thai features all the Thai favourites that we know and love but with a clever twist that is sure to keep you coming back for more.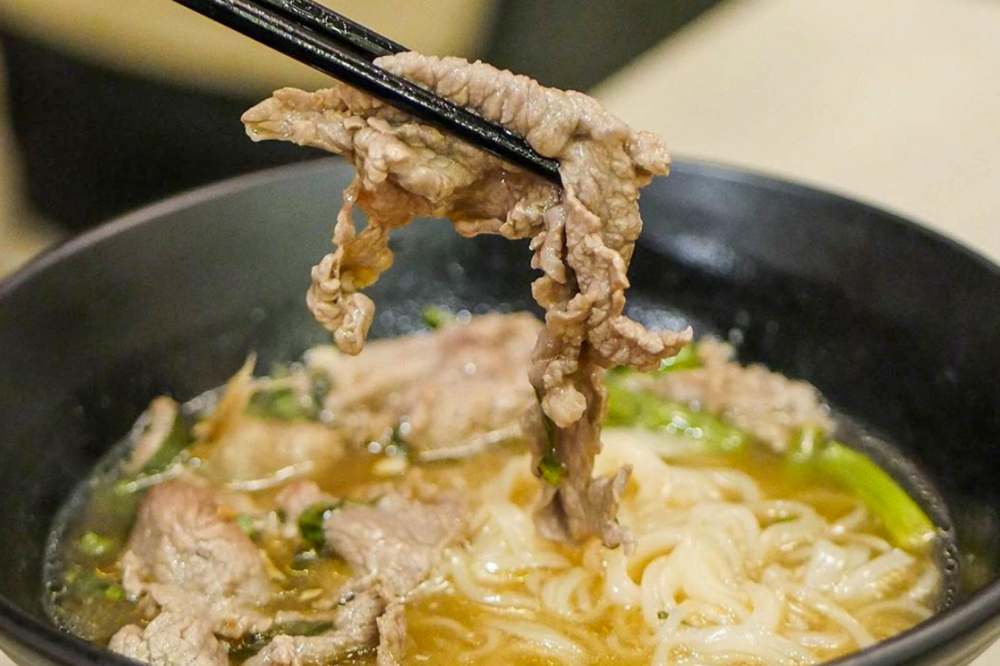 One of the dishes that hit the spot every time has to be their Signature Australian Beef Boat Noodle (S$8.20).
Think tender ribbons of beef swimming in a flavourful, slurp-worthy broth. All you need right now is a chilly day and you're good to go. For those who are particularly ravenous that evening, you'll add Snacks Delights Box A (S$6.90), where it comes with four tantalising Chicken Wings and four Chicken or Beef Balls.
With fresh produce and genuine Thai imported sauces, you'll get the best of what Thai cuisine has to offer.
ORDER NOW | Facebook | Instagram
8. Siam Kitchen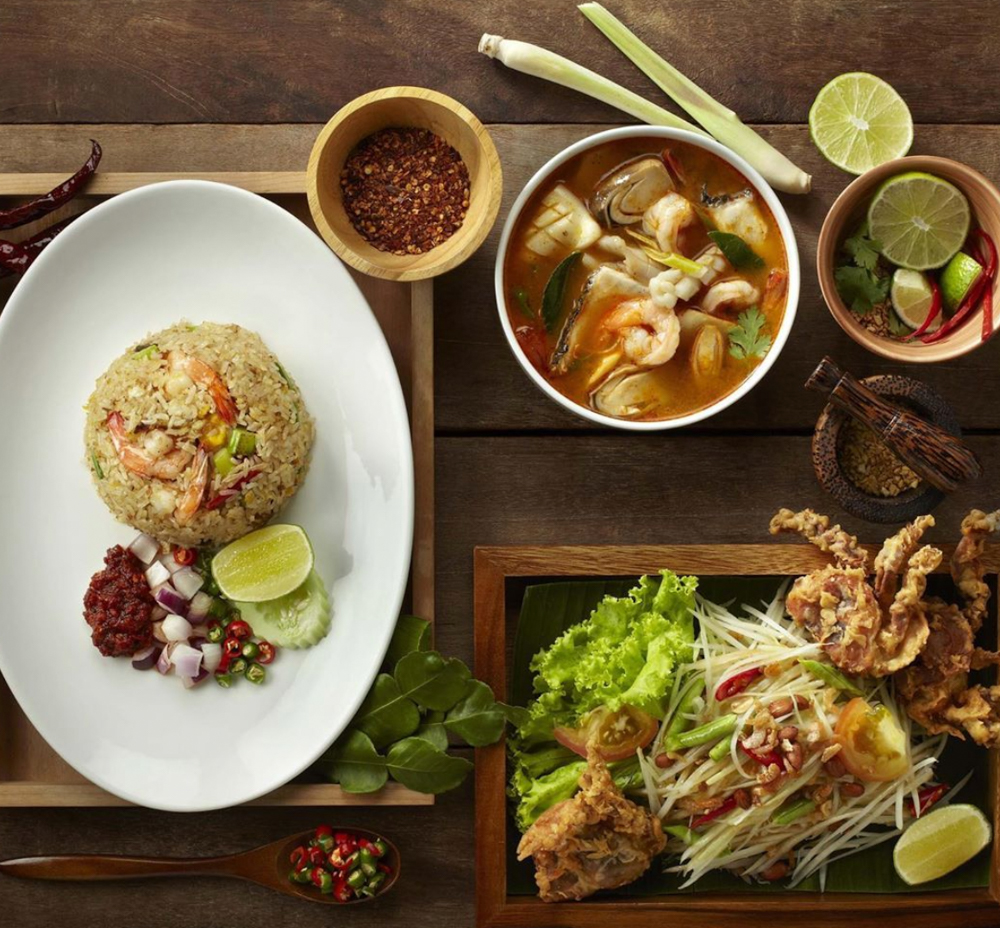 Siam Kitchen boasts the same delicious Thai fare with crowd-pleasers such as Tom Yum Fried Rice with Seafood (S$13.80) and Minced Basil Chicken or Beef with Jasmine Rice (from S$12.73) but what would really tickle your fancy would be the Aroy Mak Rice Bowls where all the best parts of Thai Cuisine are all rolled into one convenient bowl.
I can't wait to get my hands on the Olive Fried Rice Bowl (S$10.90) which features an aromatic bed of olive fried rice, moreish bits of Sweet & Sour Minced Chicken and a sunny-side egg—after all, beef donburis are so last year.
ORDER NOW | Facebook | Instagram
9. Koh NangKam
While we tend to think of Thailand as the land of Tom Yum Goong but in actuality, Thai food runs the gamut and Koh NangKam showcases some of the best of Southern Thai Cuisine.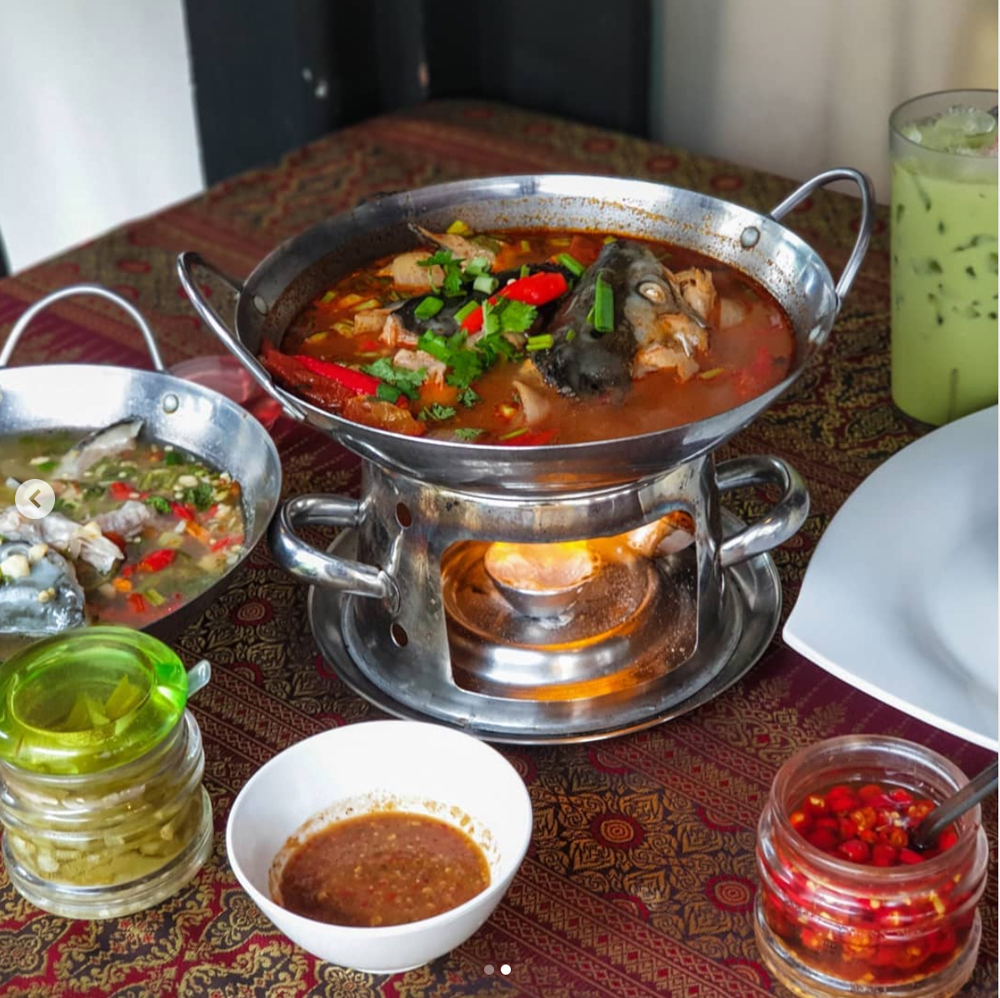 One of the highlights of this 100% Muslim-owned restaurant has to be their gorgeous seabass that comes steamed in a glorious sauce. A must-try for anyone would be the Koh NangKam Seabass (S$43) that comes with ginger & plum-based sauce that's not only hearty but herbaceous to boot.
This longtime fan favourite of Koh NangKam is sure to make you swoon when you tear into this flaky delight.
10. Kor Kai
Since we took a trip down South, with Kor Kai we travel to the Northeastern region of Thailand.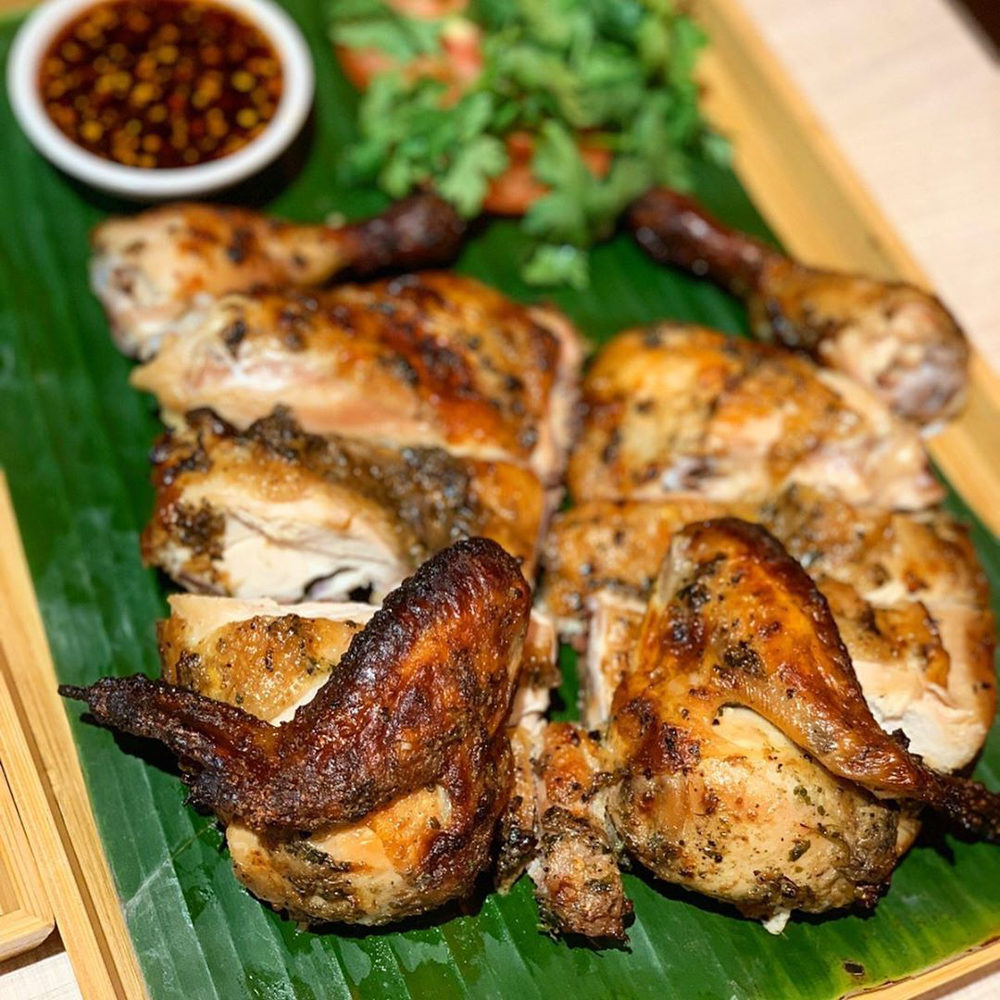 Besides serving a medley of Northeastern Thai dishes, Kor Kai is also famous for their Signature Thai Grilled Chicken (S$13.40, half; S$23.40 whole).
Fragrant, flavourful you won't want to share when you tear into this succulent bird. Just so you fit in some greens at your meal at Kor Kai, pair your grilled chicken with a Prawns and Eggplant with Thai Salad dressing (S$12.90). We love a papaya salad but an eggplant salad just takes it to next level— don't you think?
ORDER NOW | Facebook | Instagram
11. Aroy-Dee Thai Kitchen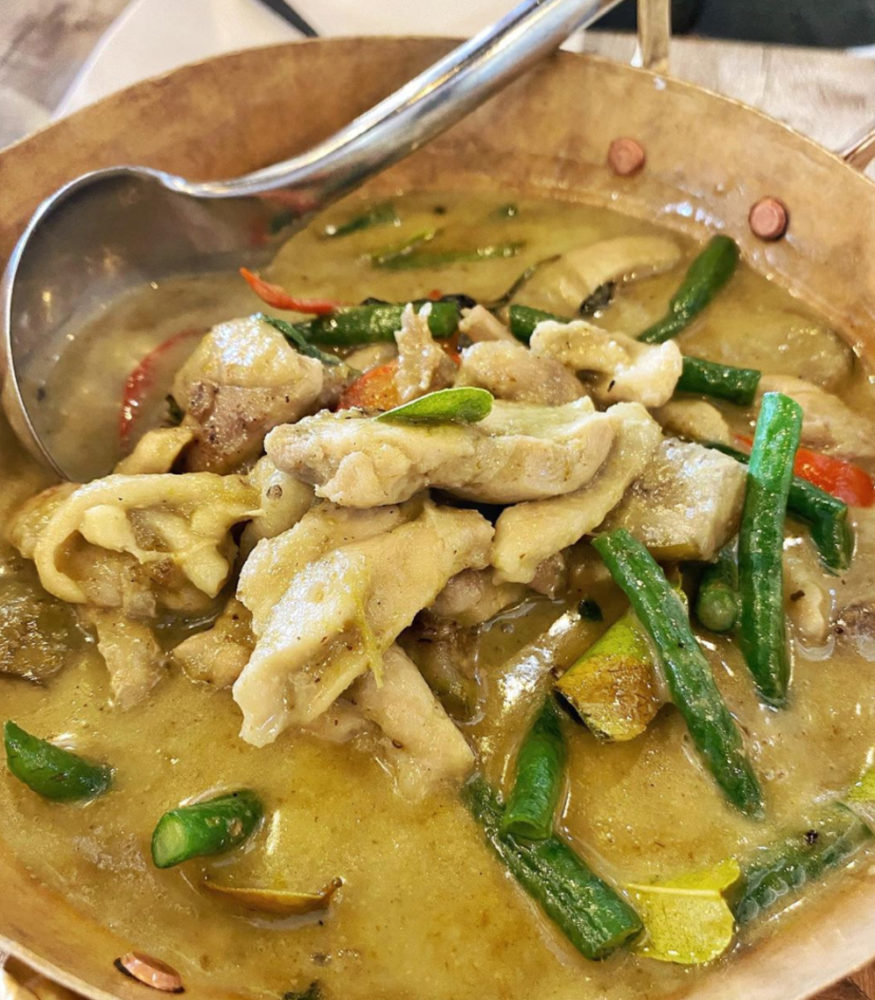 For a good bowl of green curry, you'll want to get yours at Aroy-Dee Thai Kitchen. Full of goodies and juicy chicken strips, there is nothing quite like it. Sure, the famous tom yum goong gets all the limelight and rightly so, for who can resist the spicy sour tang of one?
But, my money is on Gang Keaw Wan Gai (S$15) or more commonly known as Green Curry. Smooth and thick, this underrated cousin of Tom Yum Goong is where it's at.
It's always the right time for crabs, and if you crave a change from the usual crab offerings then Aroy-Dee Thai Kitchen's Phoo Nim Pad Phong Kari (S$18) is finger-licking goodness that you can't miss.
ORDER NOW | Facebook | Instagram
I don't think Thai food is something that we'll ever get tired off, it is at once familiar and exciting. Whether you're dreaming of the bustling streets of Bangkok or the Sunflower wonderland of Khao Yai, here are some options to tide you over before you return.