I don't know about you, but whenever I'm at a loss for what to eat, I always find myself coming back to Japanese food. It's delicious, fuss-free, and becoming increasingly affordable these days, much to my delight. Nothing screams Japanese food more than sushi — a quintessential, Japanese staple that comes in many different variations for all palates.
If you've been craving a spread of sushi, we've narrowed down a list of 9 Best Sushi Delivery Restaurants in Singapore for your enjoyment.
1. Genki Sushi
When you think of Genki Sushi, what first comes to mind is probably their "Kousoku Express" system—a seamless ordering process that brings your meal to you on a tiny train via their speedy double rail system. Apart from this unique concept, Genki is known for its fresh and affordable sushi, and the huge variety of flavours it offers.
They've put together multiple sushi platters with up to 64 pieces and a myriad of different ingredients, perfect for sharing with family. A la carte options are also available!
For those of you who are crazy about salmon, go for Special Set C (S$24.90), which comes with 18 pieces of salmon sushi, including Salmon Black Pepper, Salmon Mentai, Yaki Salmon and Salmon.
ORDER NOW | Facebook | Instagram
2. Itacho Sushi
Priding itself on serving high-quality Japanese fare, Itacho Sushi's sushi is moulded by hand by their seasoned chefs and arrives warm to the touch, instead of pressed by a machine.
Itacho Sushi offers sushi platters catering to one to three people and party platters for up to 6 people, depending on your group size. The Roasted 5 Kind Sushi Set (S$23.55) is perfect for fans of aburi sushi, featuring hotate, tamago, salmon and more, topped with various sauces like mentaiko.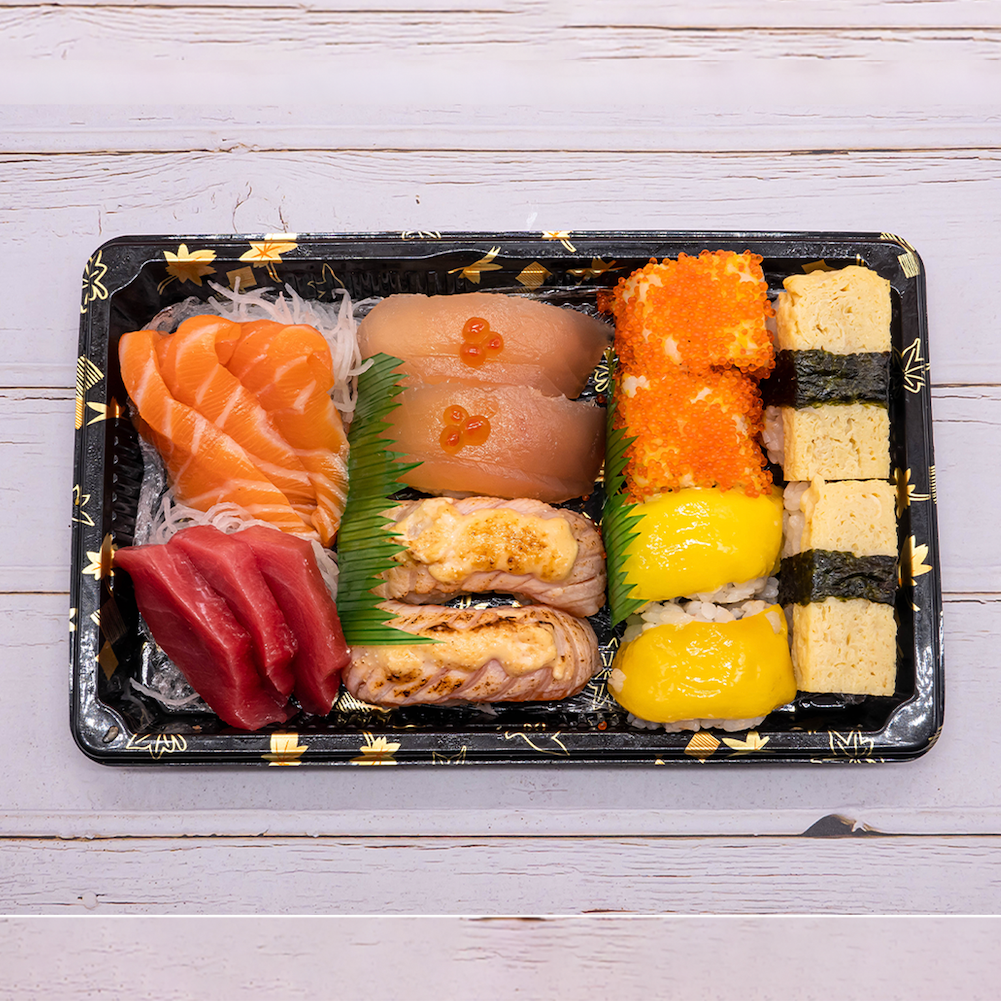 Meanwhile, the Ume Sushi Set (S$31.80) offers a mix of sushi, sashimi and maki, including salmon belly and maguro if you want the best of both worlds.
ORDER NOW | Facebook | Instagram
3. Ichiban Boshi
Offering a wide selection of sushi, fresh sashimi and variety set meals, Ichiban Boshi is well-known and well-loved, with 13 outlets across Singapore.
One of their unique rolls is the Dragon Roll (S$22.36) – deep-fried jumbo tiger prawn encased in seaweed, lettuce, rice, layered with salmon, topped with black flying fish roe and drizzled with mayonnaise.
Apart from their signature rolls, you can take your pick of sushi from their smorgasbord of a la carte flavours, including gunkan sushi, nigiri sushi and makimono sushi.
ORDER NOW | Facebook | Instagram
4. Akashi
A favourite amongst celebrities and diplomats, Akashi is an exclusive epicurean concept and promises the finest quality ingredients personally bought by their staff in Japan from the famed Tsukiji market, and air-flown to Singapore daily.
Offering nine different types of sushi platters of varying sizes, there is no shortage of options at Akashi. Sushi Platter B (S$97.20) consists of salmon, halibut fin, amberjack, unagi, sweet shrimp and tuna, providing premium sushi for your enjoyment.
5. SENS Sushi & Grill
SENS Sushi & Grill seeks to supply customers with a wide repertoire of contemporary Japanese cuisine including sashimi, sushi and teppanyaki, redefining quality dining for all palates. They even sell fresh imports flown in directly from Japan, like 250g of uni and whole Japanese sea bream.
If you enjoy your classics, go with Sushi Set B (S$63.25), which comes with tuna, yellowtail, salmon mentaiko sushi and more.
For a combination of sushi and maki, Sushi Set C (S$63.25) hits the spot, with generous amounts of glistening tobiko sushi, ikura sushi, futo maki, salmon sushi and unagi sushi.
ORDER NOW | Facebook | Instagram
6. Kinki Restaurant + Bar
Putting a twist on traditional Japanese fare, Kinki Restaurant + Bar brings modern dishes to the table with their own touch, to keep you coming back for more.
They've recently launched new rolls, reinventing classic makis and putting their personal spin on familiar favourites. The Golden Age (S$30) features seared salmon with homemade mentaiko sauce, mango puree, cucumber, avocado, chives, salmon roe and soy reduction.
Their Cowabunga (S$36) comes with seared A4 wagyu, cream cheese, cucumber, tobiko, potato floss, homemade spicy mayo and soy reduction, a unique and unorthodox combination of flavours.
ORDER NOW | Facebook | Instagram
7. Kuriya Japanese Market
A trustworthy supplier of quality ingredients, Kuriya Japanese Market's fresh seafood and premium fish is air-flown thrice weekly from Japan and sold immediately at their market in Singapore. They also import seasonal meats and provide fish slicing services upon request, perfect for party platter customisation.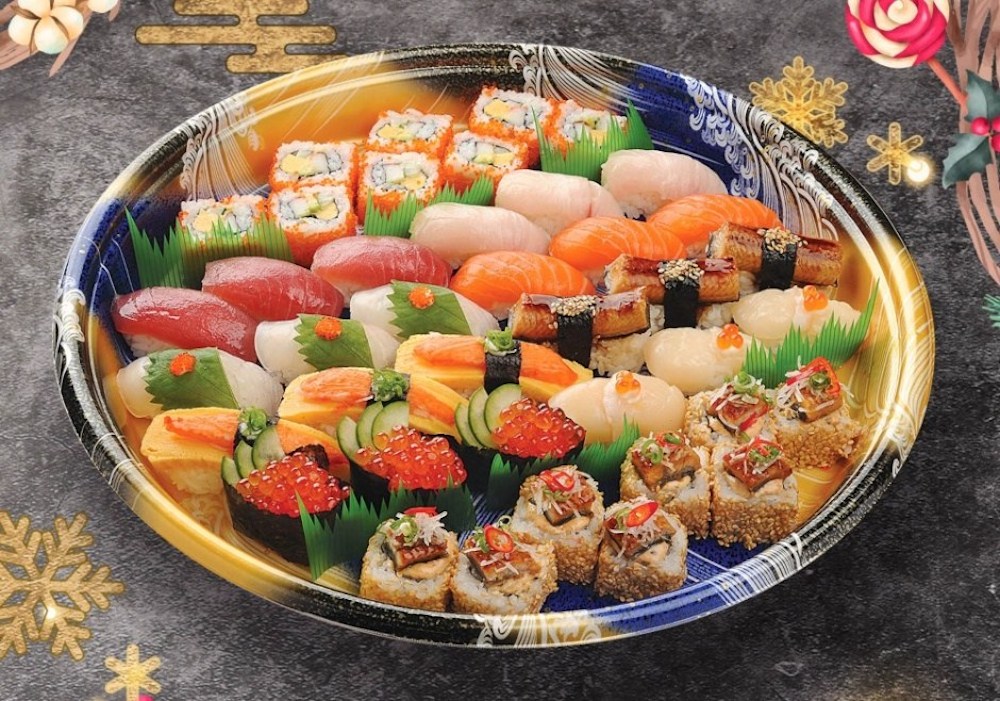 The Wakasa Sushi Platter (S$65.80) is laden with 40 pieces of sushi, including California maki, tuna, yellowtail, scallop, BBQ eel maki, salmon roe and more. Kuriya also offers countless other sushi sets and platters like Makimono Sushi, Nigiri Sushi and Inari Sushi, ensuring that there is an option for everyone.
8. Hakumai Sushi & Omakase
Hakumai Sushi & Omakase prides itself on having the freshest ingredient imported from Japan, from Niigata Perfecture's koshi rice to Tsukiji Market's seasonal seafood.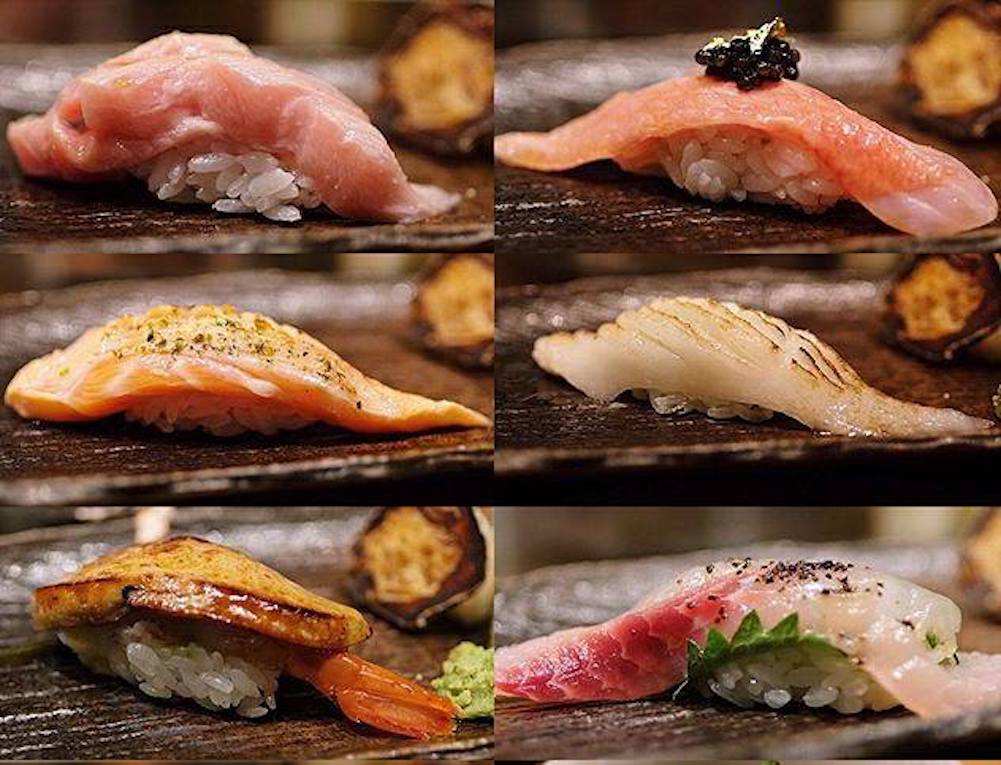 If you're looking for the ultimate stay-home Omakase experience, indulge in their Chef's Curated Signatures, which comes in platters that serve anywhere from 1-4. They also serve an array of Maki Sushi, with unique combinations such as the Ebi Furai Maki (S$13.20)— breadcrumbs-coated deep fried prawn roll.
9. Yoshi & The Horse's Mouth
YOSHI restaurant is an authentic Kyoto Kaiseki fine dining experience helmed by award-winning Chef Yoshiyuki.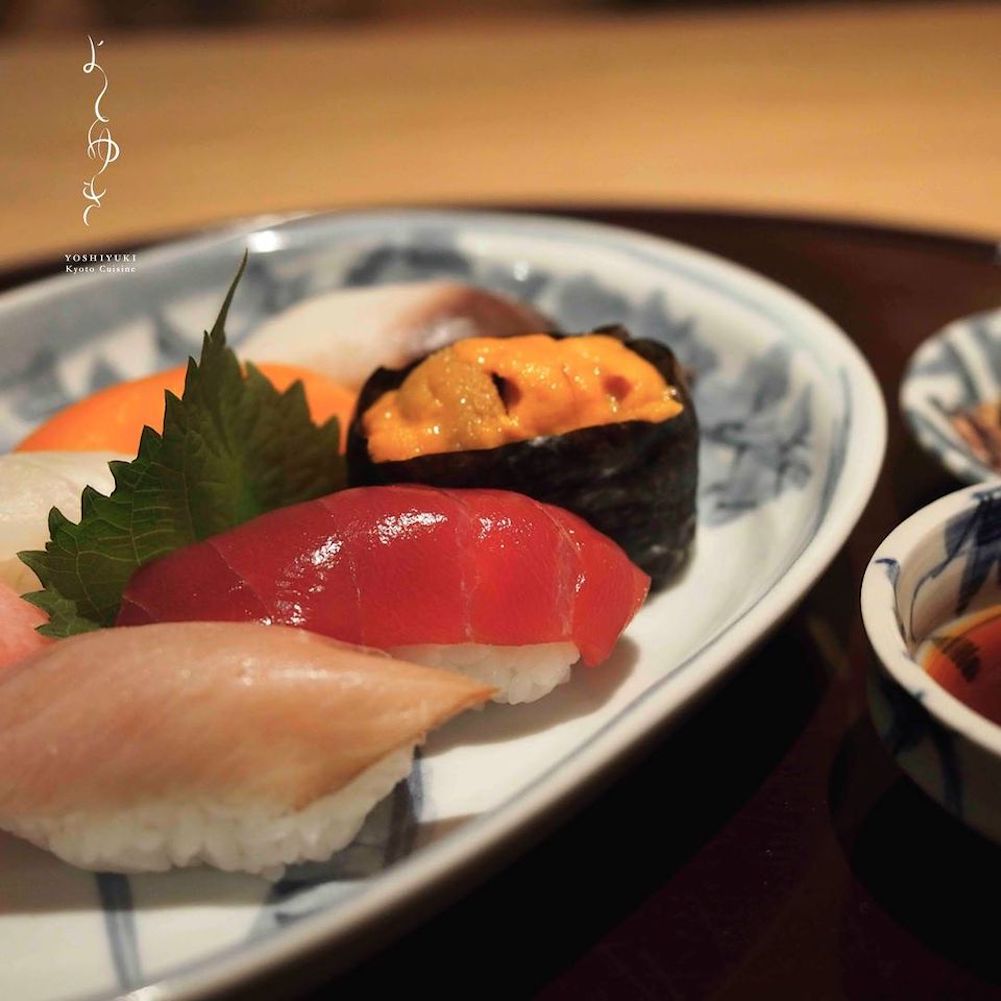 Take things up a notch with their Premium Sushi & Maki Platter (S$75), which features premium seasonal seafood (including Hokkaido uni and otoro) from Japan's Toyosu market. Using only the freshest seasonal ingredients flown in from Japan, Chef Yoshiyuki accentuates their natural flavours in a "Kyo-ryori" style.
---
Now that you've been duly informed of the 9 best sushi restaurant deliveries with platters for every group size and occasion, you can get it delivered, regardless of where you stay with Oddle Eats' island-wide delivery!