---
Whole & sliced birthday cake deliveries
---
Have your cake and eat it too, with island-wide delivery of some of the most feted cakes in town.

If you're on a hunt for new cake places to indulge in or even to surprise your friends with something different from the regular chocolate cake, this is the guide that will cake you to greater heights.
1. Butter Studio: Halal-certified array of cupcakes, cookies, cakes and more
For the cutest, most extravagant cakes, nobody does it better than Butter Studio. Butter Studio will see to your birthday and celebration needs with their beautifully decorated cakes decked with lots of careful detail. We reckon their Unicorn (short) (from $88) and Dino Wonderland (from $88) will be popular with the kids. If you're a little too old for that, go for their Lady Ispahan (from $48) or Ondeh Ondeh (from $48) for a safe choice that looks good and tastes good.
2. Chef Yamashita: The best of Japanese sliced cakes
Born, raised and trained in Japan, Chef Yamashita Masataka came to Singapore to helm Glace & Flor Patisserie before opening his own patisserie. Needless to say, his creations are entirely Japanese-styled cakes, often topped with plenty of fresh fruits.
If you're an adventurous dessert lover, opt for a Yin & Yang combi with the Mille Feuille ($6.80) and Choco Renga ($6.70). If you're catering for a birthday celebration, have Chef Yamashita's cakes delivered for your occasion!
3. Chocolate Origin: Rich, velvety goodness for the chocolate lovers
Chocolate lovers are probably familiar with Chocolate Origin's rich and indulgent chocolate cake selection. Choose between their Original Specialty Cake (from $37.80) or Dark Specialty Cake (From $37.80). While most cakes elsewhere can feed a party of about 10-15 people, Chocolate Origin's Party Size ($216.80) option caters up to about a whopping party of 48!
4. CIEL Pâtisserie: Classic cakes with a refreshing twist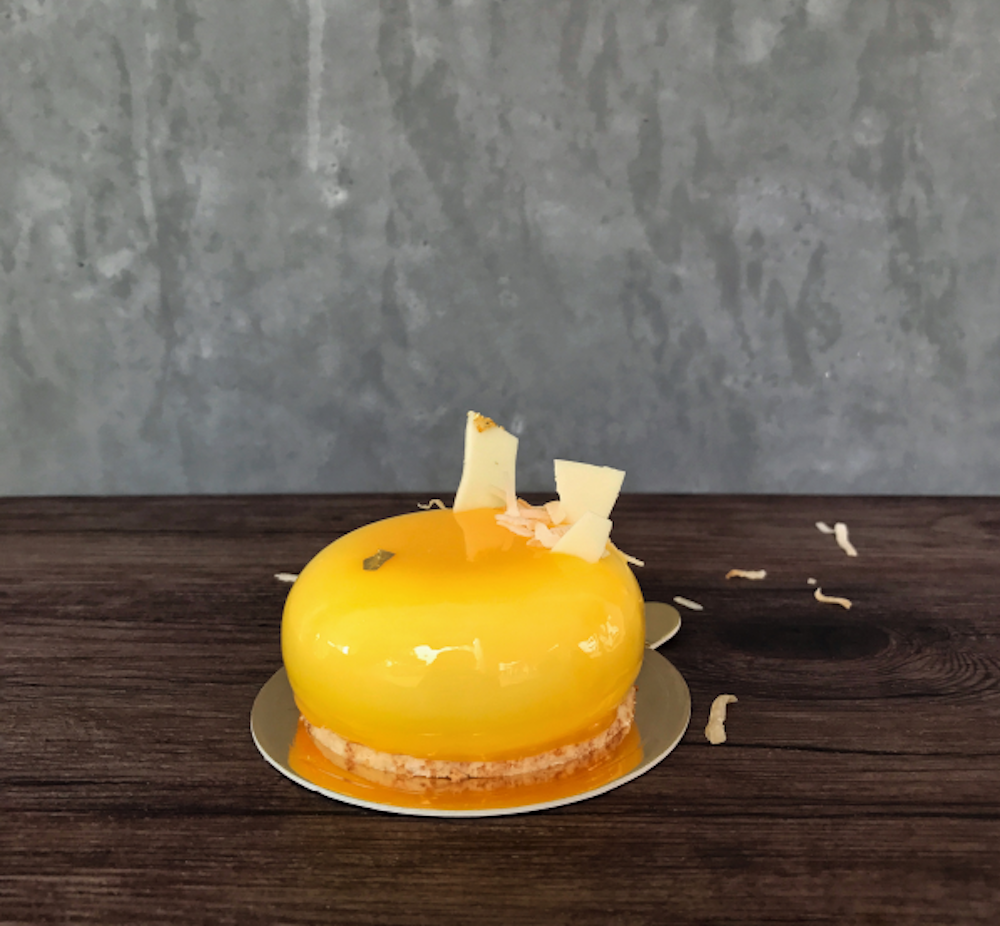 CIEL Patisserie's mission is to serve up a slice of heaven for everyone who has tasted their desserts (ciel means 'sky' or 'heaven' in French). We know it's not always that you're up for a whole cake, so thankfully at CIEL, you get individual portions for most of their cakes with the choice to 'upsize' it if you're buying the cake to share (good for 10pax). Satisfy your cravings with classics like Strawberry Shortcake (from $5.80) and Oreo Cheesecake (from $4.80). Check out their gloriously glazed Matcha ($65) and Exotique (from $6.40) for something more unique. 
5. Colony Bakery: Cake delivery for celebrations with a bigger budget
Artisanal cakes are the forte of Colony Bakery. Delicately designed and decorated, Colony Bakery's creations are masterful works of art. If you're looking to impress, go with their chocolate-flavoured Colony Cake ($78) that comes with resplendent golden splatters. Or, go with the bright Carrot Cake ($78) that is sure to brighten someone's day.
6. Henri Charpentier: Japanese patisserie treats
With over 95 stores in Japan, Henri Charpentier has amassed a great following over their delectable French desserts. Made with top-notch ingredients and the utmost care, their signatures include their Double Cheesecake ($30.80), Tiramisu ($35) and of course, The Shortcake ($44.90) which has been nominated on Japanese television as one of the best shortcakes around.

You'd be remiss not to try out their award-winning Original Financier ($25 for 10 pieces), which is the reason behind the brand's 5-time Guinness World Record, with over 29 million pieces sold in 2019.
7. Pan Pacific Singapore: An opulent choice for a special occasion
Pan Pacific Singapore are masters at creating some of the most impressive-looking cakes. With a single glance, it's evident that a ton of effort and dedication has been put into each of their cakes. While you'll be spoilt for choice by Pan Pacific's cake offerings, we're sure it'll be hard to give their Matcha Yuzu Lychee Entremet ($66.34) a miss. 
For the durian lovers, their Durian Trio ($26) consists of one Durian Puff ($9.50/pc), Durian Coffee Cake ($10.50/pc) and Durian Lychee Cake ($9.50/pc).
8. Pine Garden: Nostalgic cake delivery for the whole family
At Pine Garden, look forward to charming old-school cakes that will send you on a trip down memory lane. Their Nostalgic Chocolate Rice Buttercream Sliced Cake ($1.90) and Nostalgic Roasted Peanut Buttercream Sliced Cake ($2.50) will have you reminiscing the cakes you had from under-the-block bakeries.
Don't pass up on their creations with a local twist as well, like their Pulut Hitam Sliced Cake ($4.10), White Rabbit Sliced Cake ($5.10) and O'School Kopi Sliced Cake ($3.50). 
9. Rive Gauche: For the chocolate cake lovers
Experience France without stepping out of the country with Rive Gauche's authentic French cakes and traditional pastries. Their signature cakes include Guanaja (From $40) and Strawberry Short Cake (From $33), the former being a must-try if you're a chocolate lover. Try flavours not commonly available elsewhere like their Mont Blanc ($36) and Fruits Charlotte (S$35).
10. Udders: Ice cream cakes galore
We don't have to formally introduce this famous ice-cream parlour. Get the best of both worlds at Udders– why have only cake or ice-cream when you can have both? Check out Udder's Choco Locco ($59) and Berry Cheesy ($59) and have them delivered to your doorstep for your next Netflix and Binge (yes, binge) session.
Have the best of both worlds with a rich chocolate ice cream cake & refreshing berries and cream cheese ice cream cake.