---
Bundle meals at great prices for a National Day meal
---
*Read to the end if you're interested in a bonus deal. This one is a dine-in promotion, for a delightful 4-course weekday lunch!
Looking to catch the National Day Parade from home and order delivery for dinner? We've got some wonderful food choices for you, here on Oddle Eats. Here are 10 showstopping bundles and deals you can order to celebrate Singapore's 57th birthday. Just sit back, relax, enjoy the show, and feast!
1. A-One Signature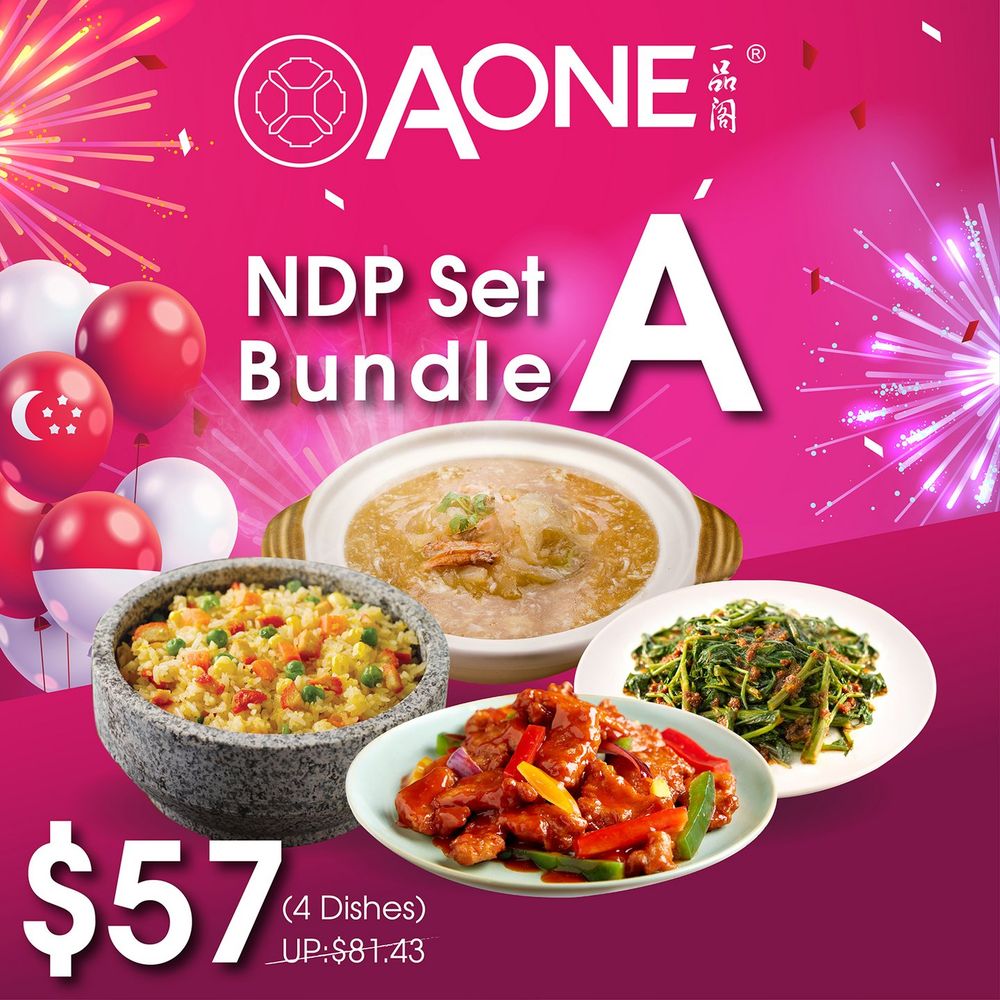 This National Day, A-One Signature has rolled out heartwarming bundle meals for delivery to your doorstep. Kick off your NDP feast with signature dishes like Yang Zhou Fried Rice, Prawn Paste Kang Kong, Fish Maw with Crab Meat Thick Soup, and a choice of either Spicy Sliced Pork or Sweet & Sour Sliced Pork with their Set A ($57). Alternatively, Set B ($57) comes with a hearty selection of dishes as well. Think Shrimp & Scallop Mee Sua, Braised Chicken with Mushroom, Chinese Spinach with Silver Fish, and also Fish Maw with Crab Meat Thick Soup. With the dishes cooked in claypots, you can bet they will taste extra flavourful.
2. Butter Studio
Craving something sweet to end the night of festivities? Butter Studio has come up with the most patriotic selection of desserts for delivery this National Day. 'Our Singapore' National Day Cake ($57) features their signature red velvet cake decked out in striking red and white colours. There's also the all-in-one 'Our Home' SG57 Bake Box ($27) and aesthetic SG57 National Day Cupcakes (from $28) to show your Singapore spirit. Safe to say, these scrumptious treats are only available for a limited time, so get them while you can.
3. Greenwood Fish Market @ Bukit Timah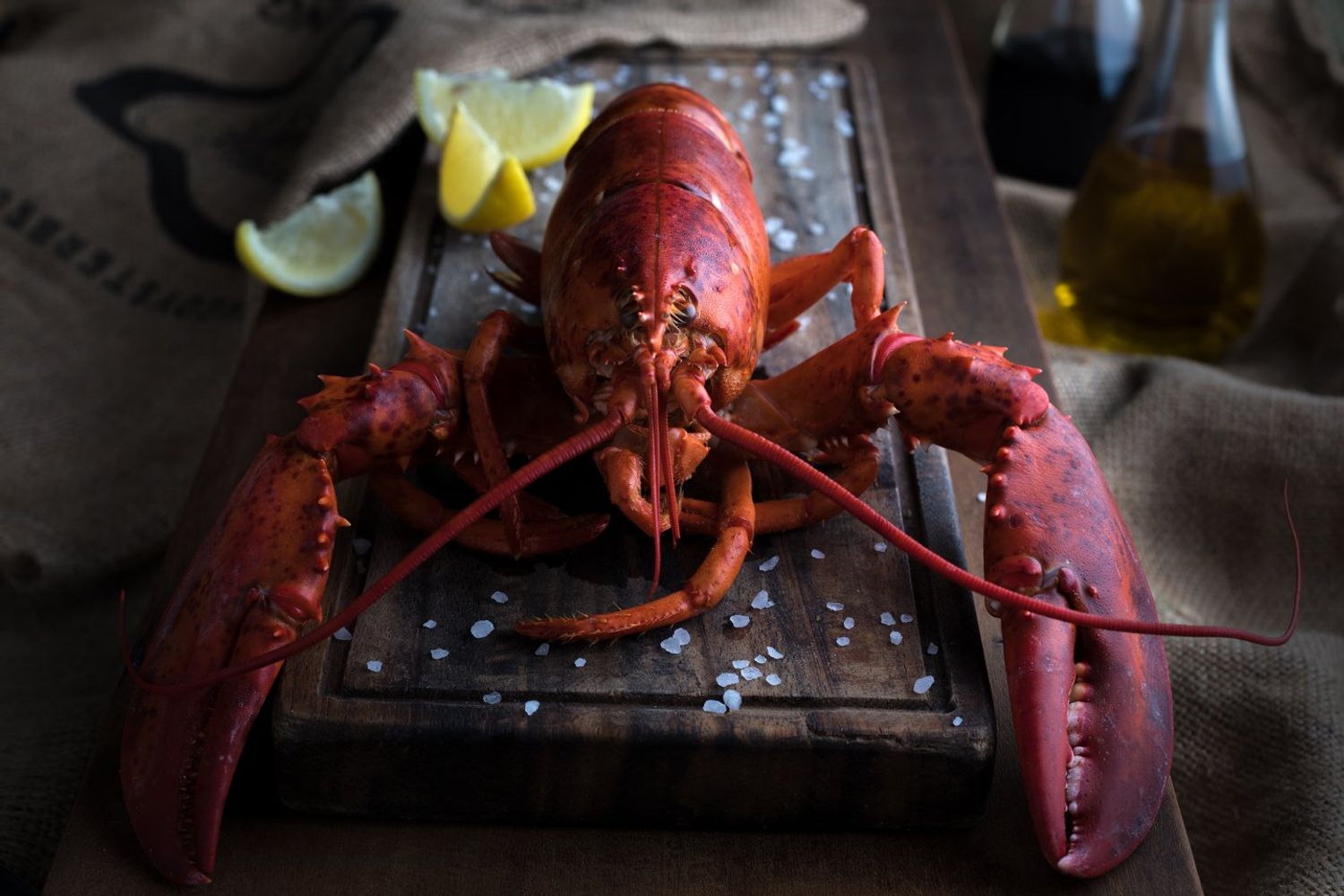 Specialising in fresh, quality seafood, Greenwood Fish Market @ Bukit Timah never disappoints. For their National Day delivery special, sink your teeth into an indulgent three-course dinner with their Lobster Bundle ($57). Going at 18% off its usual price, it boasts a Mixed Salad, Lobster Bisque and their signature Grilled Lobster & Fries, perfect for one person. While you're at it, be sure to check out their other seafood offerings, such as Fanny Bay oysters ($29.70 for 6) from British Columbia.
4. Kam's Roast
View this post on Instagram
Kam's Roast needs no intro-duck-tion. The world-famous Hong Kong chain excels in Cantonese roast dishes, which will have you wanting more with every bite. Fortunately, they are offering a National Day Set ($57) that you can order for delivery. The set includes one-quarter Roast Duck, a regular portion of Soya Chicken, and a platter combining their Crispy Pork and BBQ Pork. Throw in the Poached Hong Kong Kai Lan ($10.10) and some Steamed White Rice ($2.30), and you'll have a complete meal!
5. L'Arte Pizza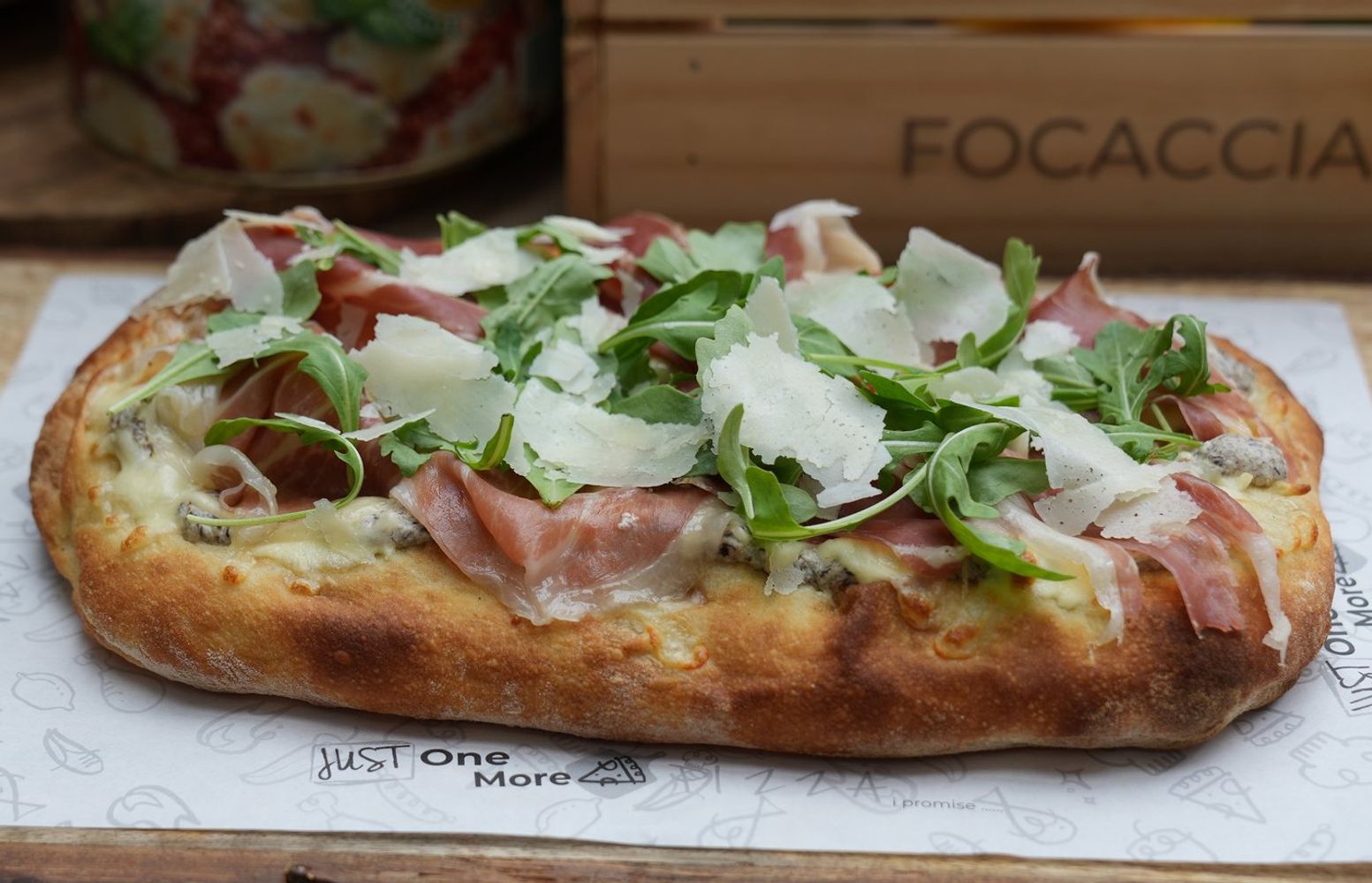 If you're hosting a watch party for the National Day Parade and need something fuss-free for delivery, L'Arte Pizza has some great options. Their National Day Exclusive Bundle for 4 ($57) gives you two whole pans of handcrafted pizzas, made with flour imported from Italy. The Tartufata pizza has mozzarella, truffle cream with ricotta cheese, parma ham, rocket leaves, parmesan, and white truffle oil. On the other hand, the Melanzzane pizza has mozzarella, juicy eggplant, parmesan cheese, parsley, chilli flakes and garlic. Every bundle comes with four soft drinks as well!
6. Penang Culture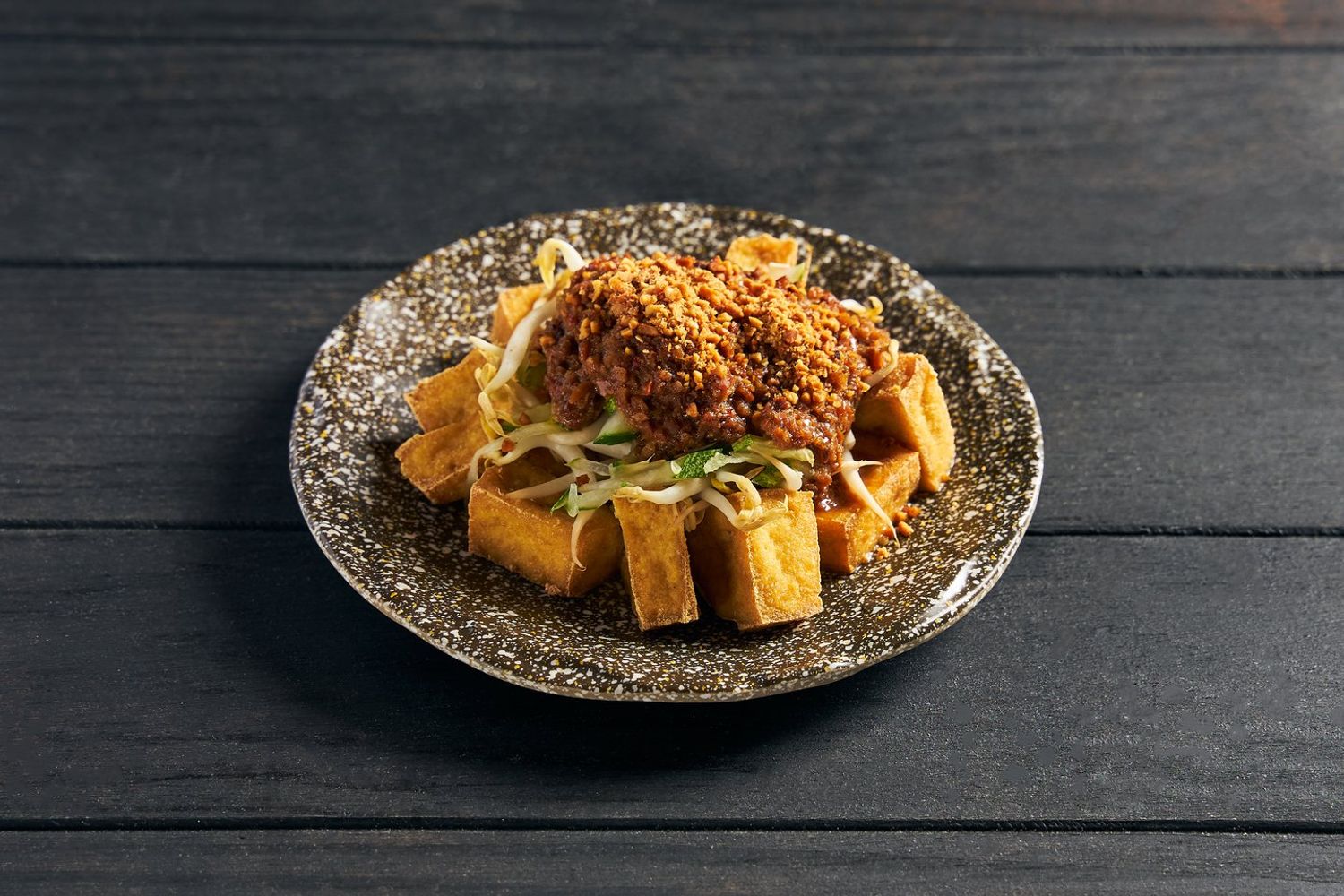 A spot for scrumptious Malaysian delicacies, Penang Culture specialises in Penang cuisine. To celebrate Singapore's National Day, they've introduced the National Day $57 Bundle for your delivery needs. Good for about four to five people, the bundle features dishes popular in Penang. There's Chicken Basil Rice, Thai Style Glass Noodles, Satay Chicken, Bittergourd Egg, Garlic Chicken with Thai Mango Sauce, and their signature Tahu Goreng. End off on a sweet note with their King of Bubur Hitam, which is included as well.
7. Soup Restaurant
Soup Restaurant serves up exceptional soups, a staple in Cantonese cuisine. Their $57 National Day Celebration Combo comes with a Soup of the Day, Chinatown Egg Fried Rice, as well as their most popular dish, the Samsui Ginger Chicken. Order from this family-favourite restaurant for a comforting meal this National Day.
8. Straits Chinese Nonya Restaurant
View this post on Instagram
Straits Chinese Nonya Restaurant whips up authentic Peranakan dishes which have been passed down for generations. Feast on some of their signatures when you order the NDP57 Nonya Bundle A ($57). It features Ayam Buah Keluak, Nonya Chap Chye, Udang Assam Goreng and Blue Pea Rice, all classics you'll love. Alternatively, there's the NDP57 Nonya Bundle B ($57) which includes Babi Pong Tay, Nonya Chye, Udang Mentega (Butter), and Blue Pea Rice. Both sets will feed two to three people comfortably.
9. The Market Grill And Wine 90
If you plan to spend the night in ultimate luxury and comfort at home, The Market Grill and Wine 90 has just the thing for you. Indulge in high-grade meats with their SINGAPORE 57th BIRTHDAY BUNDLE BOX ($57) which includes their Signature Cheese Burger and Chicken Burger. The set also has delectable sides such as Fries, Duck Rillette, Grilled Sourdough, and a Dark Choco Petite Pot. Feast to your heart's desire when you order delivery from them!
10. Yes Natural Vegetarian Restaurant
Yes Natural Vegetarian Restaurant prides itself on serving up delicious plant-based Chinese cuisine using only the freshest natural ingredients. Perfect for three to four people, their National Day Set Meal ($57) comes with a hearty variety of dishes. Think Vegetarian Shark Fin Soup, Golden Vegetarian Shrimp, Mango with Sweet Yam and Spicy Fried Mee Sua. Now you can have delicious and wholesome plant-based food delivered straight to your doorstep!
Bonus: Mad About Sucre
 

 

 

View this post on Instagram

 

 
Heads up: for an intimate, memorable dining experience with your loved ones, this is for you. Gourmet French restaurant Mad About Sucre has won multiple awards, excelling in fine Western cuisine. They also specialise in handcrafted cakes, chocolates, and bespoke cocktails.
If a family that dines together stays strong together, then this upcoming National Day food promotion is the adhesive strengthening the familial bond. For the whole month of August, Mad About Sucre is having a 4-course lunch menu from $57!
The menu comprises 1 signature appetiser of Aburi Salmon with Burnt Pomelo, 1 starter of Pork Belly with Kimchi Slaw and Quinoa, and 1 soup of Vine-ripe Tomatoes with Crab meat. Most importantly, you'll enjoy 1 main of either Pan Seared Poultry Thigh with Broccolini, Beef Brisket with Mash and Caramelised Carrots (+$9), or Collar of Wild-caught Hamachi with Pearl Couscous and Wakame (+$11).
Do note that this National Day Lunch Menu is only available on weekdays, and you'll need to make a reservation. You're also required to make a non-refundable $15 deposit for your reservation. After your meal, this will be applied to your final bill.
---
Place an order for delivery on Oddle Eats now to enjoy the most affordable bundles deals in Singapore this National Day!